Ski Japan Now!
You must ski Japan, now!
What I like the most about Sapporo is its proximity to mountains, thereby giving access to some great ski resorts. The mountains around Sapporo Japan has the lightest, fluffiest powder snow you will ever experience.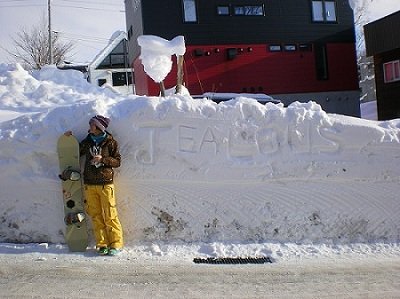 The average snowfall a season is about 15 metres! Sunny days are few and far between but the off-piste powder and tree runs definitely make up for it.
I just love to ski Japan in February and many local resorts are easily accessible for a one-day trip from Sapporo, especially if you are just learning to snowboard. There are also larger resorts if you want to stay longer.
If you are a backcountry hound like myself, then I would highly recommend a backcountry ski tour. There are tours that will take you to all the secret smaller mountains around Hokkaido that not many people venture to because of their remoteness, which equates to......more fresh lines! 
Ski Japan Spots
Teine
Teine Highland/Olympia was the site of the alpine, bobsled, and toboggan events for the 1972 Winter Olympics. A lift joins the two areas, creating Hokkaido's longest run (6km long). Probably the resort I frequent the most because it's so close to the centre of Sapporo.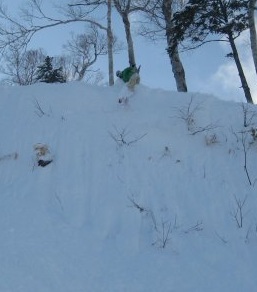 Kokusai
Sapporo Kokusai Ski Resort is another popular destination for the one-day trippers. A little further away from the city with buses leaving daily from Sapporo station. Most of the local Sapporo snowboard crew frequent this place and you'll find some proper good shredders here. Actually, most of the local pros hang out in the park. At the end of the season, all you'll see is these riders throwing some massive shit off the kickers.
Bankei
Sapporo Bankei ski area is just 20 minutes from downtown Sapporo and great for after-work or late night skiing. Last lift is at 10pm. You can get there by subway to Maruyama Koen Station, followed by a 15-minute bus ride.
Rusutsu
Rusutsu ski resort is only 90 minutes from Sapporo Chitose airport and 60 minutes from Sapporo station. There are 37 courses that offer something for all levels. The fabulous scenery from Mt. Isola is amazing. In the summer it transforms into Hokkaido's largest 72 hole golf course and amusement park.
The log cabin houses Rusutsu are frigging awesome. There is an early winter season deal that includes a one night stay, a two day ski pass, unlimited access to the onsen (hotspring), a breakfast buffet, swimming pool, and a return bus journey from Sapporo Japan. All this for the bargain price of, wait for it.........8,800 yen!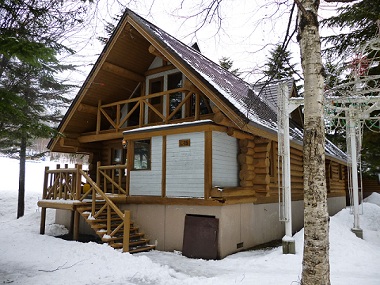 Kiroro
Kiroro is one of the most modern and comfortable ski resorts in Japan. The resort itself is situated about 40kms west of Sapporo, close to the town of Otaru. The lift system is super fast providing access to wide-open runs, and the terrain is well suited to beginners and intermediates. It's a bit slow for my liking because of the many flat parts. No problem for you skiers. Pain in the arse for us boarders. Always tonnes of powder though.
Fu's
Fu's is a great little local area to ski Japan that is ideal for beginners and has a great view of Sapporo City. There are very few runs here so it is not recommended for intermediate or advanced people, however it is great for people who want to practice their 360s or board slides as the park has a range of good features and is well-maintained.
Nakayama Toge
Nakayama Toge is THE place to go for an end of season park session. In fact, it is the only ski area left open around Sapporo and closes near the last week of May. The park is the best in the area, bar Hanazono's park in Niseko so you can expect to see some of the local pro's throwing down crazy tricks.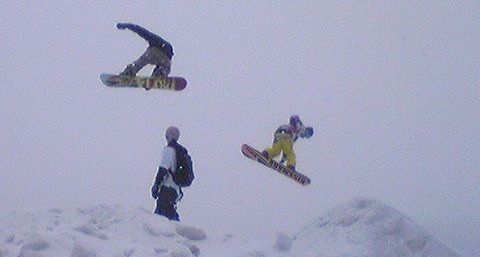 Niseko
Niseko is the largest and most famous ski resort in Japan. It is Asia's Whistler. There are three mountains, joined by lifts and shuttle buses that provide easy access to accommodations in the different areas. Great for all levels and there are parks for all levels too, including a 17ft half pipe. So if you are looking to ski Japan in waist deep powder, back country drops or a competition regulation half-pipe, and lots of Australians, then this is the place for you.
Niseko Moiwa
Niseko Moiwa is a sweet little ski resort situated near Niseko Annupuri. There are only three lifts but lots of terrain. It's much less crowded than the main Niseko resorts of Hirafu, Annupuri and Higashiyama, and there's no waiting in line for the lifts. Perfect!
The Niseko area is infamous for the huge amounts of powder it receives season after season and Niseko Moiwa is known for it's powder runs. Their motto is "Nothing but powder snow" and that definitely holds true. Ski Japan now!
Asarigawa Onsen Ski Resort
This little local resort is for all you park rats out there. The park is sweet, built by the No-Rickers crew, a group of local sponsored riders that organize snowboard comps and give free style lessons at Asarigawa Onsen ski resort.