Take a Snowcam to Niseko
Use a snowcam when you ski Japan at Niseko so you can watch the memories of the best snow vacation you will ever have over and over again. Niseko is the largest and most famous ski resort in Japan. It is Asia's Whistler.
So if you are looking for waist deep powder, back country drops or a competition regulation half-pipe, and lots of Australians, then this is the place for you.
Niseko is made up of four ski areas on one mountain, Hanazono, Grand Hirafu, Niseko Village and Annupuri, which is plenty if you are planning a long snow vacation or season.
Grand Hirafu is the largest and most popular ski area and offers amazing views of Mt Yotei.
Hanazono offers the best range of free ride skiing and has the biggest and baddest park on the mountain, including a huge super pipe. This area is easily accessible by chair lifts from the Grand Hirafu area.
Niseko Village(Higashiyama) Ski area is on the southern side of Annupuri with wide open runs and a view of the Pacific Ocean.
Accommodation in Niseko gets booked up quickly so make your reservations early to get the best deals.
I used a snowcam to illustrate the powder we had that day.
Annupuri has long, gentle and wide open tree runs and is less crowded than Grand Hirafu and Hanazono. On the weekends, I tend to hike up the Grand Hirafu Peak and then ride the bowl down to Annupuri and hit the slopes there.
Resort Info
Prices

Getting There
By Car
About 100 km (2 hours 20 mins) from Sapporo Japan via Nakayama Pass. About 70 Km from Otaru (1 hour 30 mins) About 110 Km (2 hours 10 mins) from Chitose via Bifue Pass.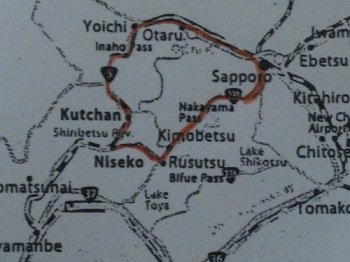 By JR Train
To Niseko Grand Hirafu
Take the Niseko Ski Express from Sapporo Station direct to Kutchan station. It takes approximately 2 hours. It costs 1790 yen one-way. From Kutchan station take a bus or taxi to Grand Hirafu Resort. It takes approximately 15 minutes.
To Niseko Village and Annupuri
Take the Niseko Ski Express from Sapporo Station direct to Niseko station. It takes approximately 2 hours. It costs 2,100 yen one-way From Niseko station take a bus or taxi to Niseko Village (Higashiyama) or Annupuri. It takes approximately 10 minutes.
By Bus
This is definitley the most convenient way to get to the Niseko ski resorts and the most hassle-free. Take the bus from Sapporo Station Bus terminal and it takes you all the way to any of the Niseko Resorts.
To get to the bus terminal go to the underground walkway and follow the signs for the bus terminal towards Bic Camera. When you get to the end of the walkway you will see Esta and glass doors with platform numbers above them.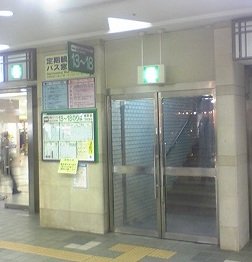 Chuo Bus operation: December 1, 2010 - March 27, 2011
Chuo Bus Tel: 011-231-0500
Donan Bus operation: December 17, 2010 - March 13, 2011
Donan Bus Tel: 011-865-5511
Bus schedule from Sapporo to Niseko

Bus schedule from Niseko to Sapporo

Fare: One way-2,300 yen (Child 1,150 yen) , Return-3,850 yen (child 1,930 yen)
You can also get a 1 day bus pack which includes a round-trip ticket and a Niseko All Mountain 8 hour pass for 4,900 yen (save 3,850 yen) which you can buy on the bus.
A reservation for the bus is neccessary so please call.
Bus From Chitose Airport
From New Chitose Airport to Niseko Ski resorts.
From Niseko Ski resorts to New Chitose Airport.