Skiing Tips?
Ski Kokusai Resort
One of my skiing tips is to shred the awesome powder at Kokusai (International Ski Resort), one of the most popular ski areas located in the south of Sapporo Japan.
The reason for its popularity is that Kokusai has wide open runs, superb snow, good access to hotsprings and easy access from Sapporo Japan. It was the first mountain I rode when I first moved here so I have a little soft spot for Kokusai.
In the spring time you can enjoy eating jingis Khan (barbecued meat) out on the veranda whilst working on your goggle tan! This is my favourite time of the season at Kokusai. It's always busy and at the bottom of the mountain, the locals build some small kickers and you'll see some crazy tricks there.
Some Skiing tips 
A lot of the local pros ride this mountain and they have a pretty sweet little park with a couple of medium size kickers, box rails, and one huge kicker towards the bottom of the main run. The park gets busy and you'll see the local shredders busting some cool shit off the jumps. One of my skiing tips is to avoid the massive kicker at the bottom until the locals are hitting it regularly, but if your mate goes off it, you gotta go!
I don't know the area so well, so I usually try to find some locals to ride with and they can show me the good spots. There are some good off course areas to be found but you really have to know where you are going, so be careful. Don't wander off too far, especially if you are on your own! The courses are also nice and wide so if you are a beginner and want to learn to snowboard, you can find some nice, mellow, fun runs to practice on.
Another one of my skiing tips is to hit Kokusai from January. This is the time of the most powder. It can be a little too busy at times though but the powder is guaranteed and awesome. Wax those boards!
Resort Info
Number of courses: 7
Longest course: 3600m
Number of lifts: 5
Terrain: 30% Beginner, 50% Intermediate, 20% Advanced
Park Facilities: Table top kicker, hip jump, rails and boxes, 80m half pipe and more.
Day-care available for ages 2-6, 9:00-13:00, 13:00-16:30.Half day costs 2,000 yen, One day costs 3,500 yen. Reservation is necessary.
Sapporo Kokusai Skiing resort Tel: 011-598-4511
Getting there
The cheapest and easiest way to get there is to take the bus to Kokusai. You can buy a bus package on the bus that includes a return journey and a 1 day lift ticket for approximately: Adults 4,800 yen, middle/high school student 3,900 yen, Elementary school students 2000 yen.
The bus leaves from Sapporo Station Bus terminal platform 16. To get to the Sapporo Station bus terminal go to the basement level of Sapporo Station and walk down 'Culture Walk' towards the entrance of Bic Camera.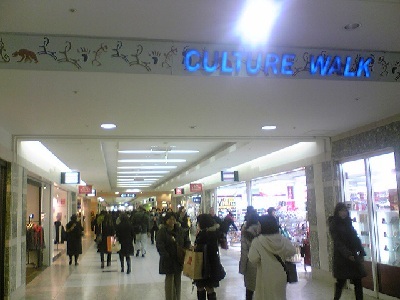 At the end of the walkway, on the right next to the entrance of ESTA you will see a set of glass doors with the numbers 13-18 located above the door (see picture).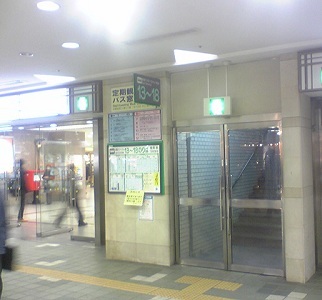 The bus departure times are very frequent and run until early May. Yes, the season is that long in Sapporo. However, from April until the end of the season, there are only two buses that depart from Sapporo station.