Pretty Japanese Girls in Susukino
Pretty Japanese girls are in abundance in the red light capital of Hokkaido.  In normally conservative Japan, things can get a little, or a lot, more liberal after hours. Susukino, Sapporo's nightlife hub, is no exception. Surprisingly, being located in only Japan's 5th largest city, Susukino is rated by some as Japan's #1 red light district.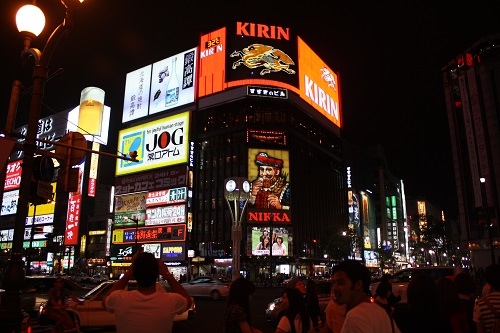 Besides the endless number of bars and restaurants, Susukino is home to many Hostess/Host Bars as well as home to a booming sex industry. In true Japanese fashion, customer service is a top priority and there is something for everyone. Whether you want scantily clad nurses, more sophisticated and smartly dressed women, or young (18+) pretty Japanese girls dressed as french maids with bunny ears, there will be something here to tickle your fancy.   
Regardless of theme, there are many different types with many different rules. 
       Snack (sunaku)- Usually very small, with an older woman as the mama-san running the show. You'll probably sit at a counter, maybe a couch, and there will be a handful of other pretty Japanese girls, usually around 30+ years old, to sit and talk with you and pour your drinks and laugh at your bad jokes. A lot of these places have karaoke as well. Snack Bars are more for the older crowd though. 
       New Club (nyuu kurabu) - Here the Japanese hot girls are younger and very good looking. You pay for it as well. Here you'll be assigned a seat at a booth and you'll wait until your girl arrives. They'll sit next to you and flirt with you and again pour your drinks. After a few minutes the girl will leave and you'll get a new girl, and the cycle continues. If you really like a girl, you can pay a little extra and she'll stay longer. But no touching.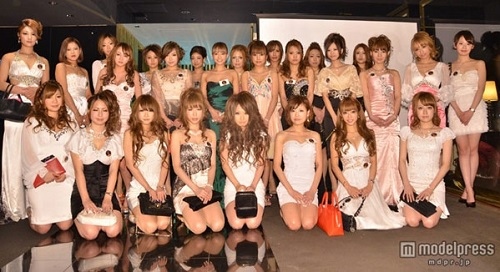 Girl's Bar (gyaruzu ba)- Similar to a New Club, but instead of a seat and table, you're at the bar or maybe a small counter table, and the girl's generally stay behind it.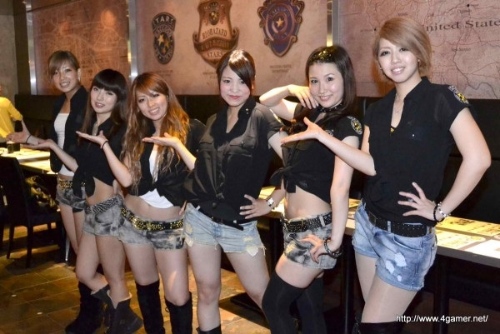 Kabakura (kyabakura)- Now things start getting more interesting. Here you're given a booth, and again assigned a girl who after a few minutes will rotate with other girls. However here they're usually dressed a little more provocatively and are a little more "touchy-feely." In a kabakura you have what is called "down time," where they turn off all the lights in the club and the pretty Japanese girls will sit on your lap. Now it's up to the girl, but here some light petting is allowed during this time. When the lights come back on, they'll slide back next to you and pick up right where you left off. 
     Hard Kabakura (haado kyabakura)- Basically the same as above, except instead of a booth and table out in the open, you're given a small booth with dividers on each side so you're a bit more private. Besides that, it's very similar to the regular kabakura, except that the light petting, can now be a little bit harder, but again, up to the lady's discretion.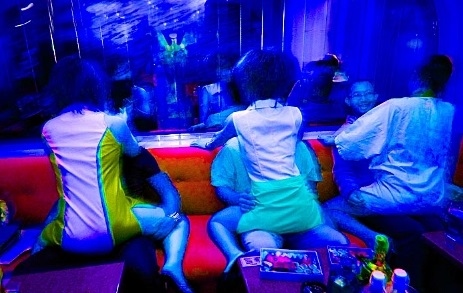 Strip - (sutoripu) Like the name says. Similar to a western strip club. Not common in Sapporo.
       Hybrid (haiburido) - Half kabakura, half hard kabakura.
       New Half Club (nyuu hafu kurabu) - Not to be confused with New Club, New Half is a club where the ladies are transgendered.  
The above list falls into the Hostess category. They are not sex bars, you only pay to be pampered by pretty Japanese girls (or men).
Fuzoku
Japan also has a sex industry, called fūzoku. You have Soapland and Health type businesses. Admit it, you love the names, who doesn't want to be clean and healthy? 
      Soapland (sopurando)- Here you'll get bathed by the woman of your choice, and after you get cleaned, you can get dirty. While not old (30-40), you might find the girls older than at a Health establishment. Keep in mind though, with age comes experience.
      Health (herusu) - Health clubs are known to have generally younger girls. Some discretion is left up to the women though. So while you might be a paying customer, you should try and be a gentleman. It's for your own benefit.  
     Delivery Health (deri heru) - Same as Health, but with door-to-door service. There are plenty of magazines at the convenience stores advertising these services, however, the pretty Japanese girls faces are usually obscured. When the "delivery man" arrives he usually brings a backup in case you want to change your first choice. Japanese customer service, you can't beat it.  
Not really falling into the above categories but worth a mention are Gokon Bars and Happening Bars. At these places the men pay and the women get everything for free. Here the women are not professionals (if they are, they're "off-duty") but regular civilians just like you. There is no guarantee of anything. 
     Gokon Bar (gokon ba) - A regular gokon is basically group blind dating. Usually two friends, a guy and girl, will invite a group of their friends for dinner and drinks. The number of men and women should be equal. You sit guy/girl/guy/girl and you might rotate after a while so you can talk to more people. At a Gokon Bar you usually will go with one or two friends of the same sex, and if you're a girl, you walk in and drink for free. If you're a guy, you go in and sit and the staff will find an even number of women to sit and talk to you. Sometimes if you see a group of girls you like on the way in you can mention it to the person seating you and they'll bring them over. All you pay for is your drinks. After that it's just like meeting anyone you don't know in any bar or club. Good luck.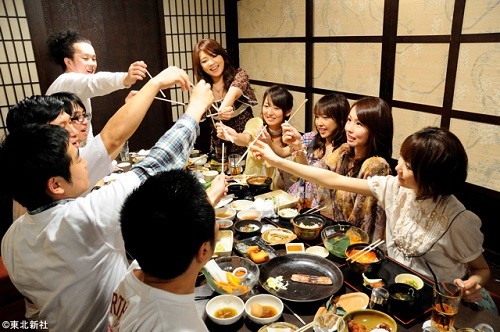 Happening Bar (hapuningu ba) - Here the men pay a high cover charge, for an all-you-can-drink plan, the women drink for free. After you enter it's similar to a regular bar with the slight difference being that there are various rooms in the back where you can play Monopoly, or whatever, with whatever new friend and/or friends you've made there. 
There's one thing you should know before you try to go to any of these places: a lot don't want or allow non-Japanese customers. If you can speak Japanese well and are with a Japanese friend or a guide, you will fair much much better. Keep in mind, these businesses get a ton of return customers and regular clients because the hostesses and pretty Japanese girls can keep you very entertained with just conversation. If you can't communicate it's not going to be fun for anyone, and that's the goal isn't it? 
  Dating - Finally, there is the dating option. It's hard finding dates in Japan with genuine Japanese people especially if you are just visiting for a short time, but also because Japan does not have a culture of meeting strangers in bars and clubs like there is in the West. But, there are companies that cater for people looking for dates with Japanese men and women living in or visiting Japan. The great thing about this is that you can view profiles, so you can feel confident before the date that your choice is right for you. Of course, this comes at a fee and there are a variety of levels depending on the quality of the date you want. In my opinion it's better than going through something like Tinder because there is a fee to be a member so you know that the people are serious and are not going to waste your time, like so many people on Tinder do (you've heard the stories).
Japan is getting progressive these days so there are also companies that cater for women too. Whoever said Japan was a sexist country? 
from Pretty Japanese Girls to Best of Sapporo homepage