Powder At Niseko Moiwa

Niseko Moiwa is a sweet little ski resort situated near Niseko Annupuri.  There are only three lifts but lots of terrain.  It's much less crowded than the main Niseko resorts of Hirafu, Annupuri and Higashiyama, and there's no waiting in line for the lifts.  Perfect!
The Niseko area is infamous for the huge amounts of powder it receives season after season and this resort is known for it's powder runs.  Their motto is "Nothing but powder snow" and that definitely holds true.  There are some steep sections to be found at the top, but the runs are wide and ideal for intermediates.  Even beginners of powder riding will have a blast.  Because there are wide runs, those who are just starting out riding powder can practice those big powder turns without having to worry about smashing into a tree or taking an old granny out for ten points.  There are some really good tree runs too for the more advanced rider and it's easy to hike into the back country, through the marked gates to find the waist deep white stuff.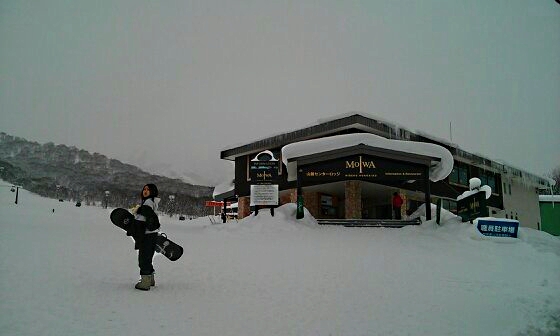 The snow is so light and soft that even though the runs get tracked out…..and it will, especially on the weekends, it's still easy to ride.  Not hard and bumpy that usually happens when a run has been hammered all day by those pesky, mogul-making skiers…..you can just cruise right through that shit.  There's no park, but you'll able to find some nice mushroom pillows to pop off in the back country.
I hardly ever go to Hirafu (the biggest ski resort in Hokkaido) anymore, mainly because it get's so crowded, especially on weekends.  There is nothing more frustrating than standing in a huge lift line at 9am for 20 minutes, then finding that all the fresh lines have been taken.  I experienced this a lot when I did a season there back in the day.  It's a great resort, don't get me wrong, and probably the best one in Japan if you want to do a season, but if you only have a day, or you are just learning to snowboard, I'd recommend going to a smaller resort with less people so you can shred as many powder runs as possible.  Niseko Moiwa fits that bill.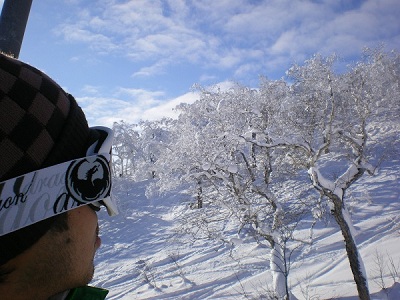 The food is expensive compared to other mountains I have been to, but the Niseko area is notoriously pricey because of it's popularity…..and it does have the best snow in Japan, and maybe even the world, so paying 900 yen for a bowl of noodles (miso ramen is famous in Hokkaido) is peanuts compared with what you get in return.  The restaurant also has their own falafel in pita bread.  It's not Japanese food, but when you have been living in Japan for a long time, it's always a pleasant surprise to find good, rare food from home that I love, but can never find here.  A falafel set with chips and a drink will set you back about 1,200 yen.
Prices
1 day ticket: Adults 3,800 yen, Under 15s 500 yen, Silver ticket (60 years and over) 2,500 yen
4 hour ticket: Adults 2,800 yen
Night ticket: Adults 1,500 yen
Season pass: Adults 38,000 yen, Under 15s 35,000 yen, Under 12s 30,000 yen
For more information visit the Niseko Moiwa website.
Getting There

By Train
Take the JR from Sapporo Station to JR Niseko Station.  The cheapest and quickest way is to transfer at Otaru station.  It takes about two and a half hours total and costs 2,100 yen one way.  From Niseko station take a taxi to the resort which should take about 10-15 minutes.
By Car
Address: Niseko Moiwa Ski Resort
448 Niseko Aza, Niseko-cho, Abuta-gun, Hokkaido, Japan 048-1511

Telephone: +81 (0) 136-59-2511
From Sapporo it takes about two and a half hours by car.
View Larger Map
from Niseko Moiwa back to Ski Japan