Asarigawa Onsen Ski Resort

Asarigawa Onsen ski resort is for all you park rats out there.  There's not really much in terms of terrain.  There are 4 lifts and 8 runs and the elevation is quite low so not recommended if you are looking for deep powder runs.  Best to go further out of Sapporo, or hit up Teine Highland (My favourite for back country pow).
The park is sweet, built by the No-Rickers crew, a group of local sponsored riders that organize snowboard comps and give free style lessons at Asarigawa Onsen ski resort.  The No-Rickers Park has a small, medium and large jump, some pipe rails, a couple of boxes and some other barrel rails to jib off.  The park is nicely laid out for slopestyle events.
You can have a 90 minute free style lesson for 1,000 yen.  That's dirt cheap.  My coach was Hitoshi Otake who specializes in spin tricks because I was trying to get my 180s dialed down and then hopefully progressing to 3s…..I suck at spinning, still.  He's a really cool dude and patient, and has a really smooth style.  He only speaks Japanese, but with gestures and him showing you how it's done, there shouldn't be a problem understanding his points and ideas.  A little Japanese would definitely help though.
I went during the week with a couple of friends so it was really quiet.  Only four people in total signed up for free style lessons; our group of three and a junior high school kid who was a ripper.  His level was way higher than ours, busting smooth 3s and getting huge air, so he got his own private instructor and three of us got Otake.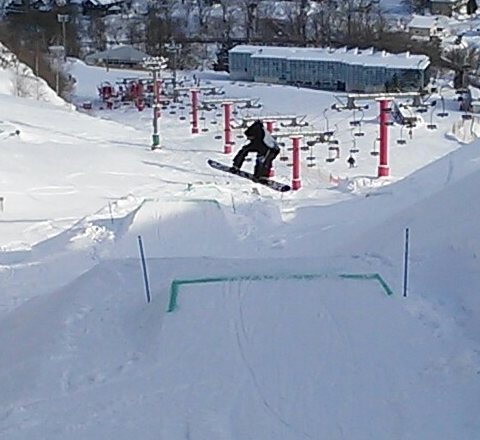 It was like a semi-private lesson and well worth it.  I was knackered at the end of the 90 minutes from battering myself off the kickers.  We hiked the top medium kicker and I didn't get my tricks dialed down pat, but I definitely got some good tips and with a little more practice, those front nose dive 230 to fakey outs will be a walk in the No-Rickers park.
There are a lot of ski schools there so it gets pretty crazy on the course, but still pretty good if you want to learn to snowboard.  Stay in the park and it will be quiet as, apart from the odd local shredder throwing down big shit.  The food in the restaurant is surprisingly expensive for such a small mountain.  There was NO ramen when I was there.  I hope they have changed that now.  I had Miso soup with pork and vegetables (Tonjiru) which was good, but a bit on the pricey side: 600 Yen.
Prices

A one day pass including park pass costs 2,900 yen. (to use the park you must buy a regular ski pass too)
Getting There

By Bus
There are also two direct buses, one from Sapporo Station bus terminal and the other in front of Nakajima Koen subway station.
The bus times are as follows:
From Sapporo Station Bus terminal:

From Nakajima Subway station: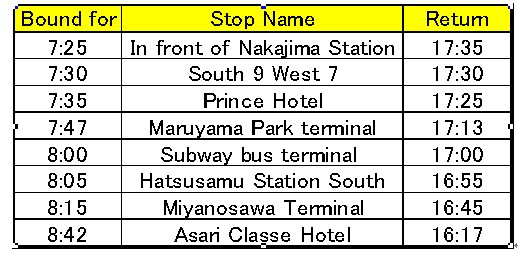 To make a reservation for the buses please call 0134-54-0101 (Japanese only) by 15:30 the day before you want to go. It costs 800 yen return for adults and 400 yen for children.
Note:  These are the bus times for the 2012/13 season.  For an up to date bus schedule check out the Asarigawa Onsen ski resort website. 

By JR Train and Bus

Take the JR train from Sapporo station to Otaruchikko station.  This takes about 30 minutes and costs 620 yen one way.
From Otaruchikko station take the bus going towards Asarigawa Onsen.  There is a bus every 20-30 minutes until 11:18, then they are every hour.  It costs 320 yen one way.
Get off at the stop AFTER Asari Classe hotel.  The ski resort is opposite the bus stop and takes about 20 minutes from Otaruchikko station.

Cross the road and walk along the bridge and then you will be able to see the resort. 
You can also get off at Asari Classe Hotel which is about a 5-10 minute walk to the ski resort.

There are regular buses leaving from Asarigawa onsen ski resort.  Ask at reception for bus times back to Otaruchikko station.
By Car
It takes about 30 minutes from Sapporo Station.
View Larger Map
from Asarigawa Onsen Ski Resort to Ski Japan