The Best Hokkaido Skiing near Sapporo Japan
I just love Hokkaido skiing. This is my favourite resort for a day trip as it is so close to the city, great value for money and easily accessible.
Teine has some of the best hokkaido skiing near Sapporo.
On a clear day, the view from the top of Mt Teine is breathtaking. You can see across Sapporo to the east, Otaru to the west and The Sea of Japan to the north.
Olympia is good for beginners and a great place to learn how to snowboard, but the long course down from Highland to Olympia has a lot of flat sections, so boarders wax, wax and wax that shit some more!
Highland is better suited for intermediate to advanced skiiers and riders because of its steepness. It's one of the steepest mountains around Sapporo.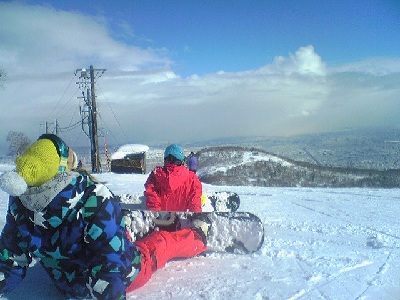 Teine ski resort held the slalom event in the 1972 Winter Olympics and is one of the best Japan mountains in Hokkaido.
I love Teine Highland because there is so much to do there in terms of terrain and has some of the best Hokkaido skiing in my humble opinion. It is quite a small resort and if you only stick to the course, it gets boring pretty quickly. The locals know all the good spots..... in the trees and round the back of the mountain into the bowls. Teine is steep too so you don't have to worry about getting stuck on those deep powder days....no swimming here.
One of my favourite runs (off piste) is known as the Mushroom Run or the Road Run. It runs down through trees from Highland to Olympia with a short hike out to the road. This run is wide, and full of mushroom pillows and jumps. It's a bit of a mission getting out and then there's the long Gondola ride back up to Highland, so most people only hit this once a day, so there will be guaranteed fresh tracks.
Just a warning though. Don't hit this run too early on into the season because there is a creek at the bottom of the run and there won't be enough of a base to get over it. You'll have to jump across! Ideally, after Christmas or New year would be a good time. I'm talking from experience. I went there on the 15th December and below is what happened:
Furthermore, there wasn't enough snow at the end of the run where the hike out to the road begins. Instead, there was a high steep climb, which we couldn't manage so we ended up having to hike round to the side and back up to the car park at Highland. It took bloody ages, but the run was pretty sweet anyway. Did it again at the beginning of January and it was much better. Sick!
Probably, my second or third favourite ski resort for Hokkaido skiing is Niseko. Make sure to take a snowcam to Niseko because it is the largest and most famous ski resort in Japan. It is Asia's Whistler.
Resort Info
Number of courses: 13
Longest course: 6000m
Mountain vertical height: 450m
Night skiing until 9pm
Terrain: 40% Easy, Intermediate 30%, Advanced 30%
Prices
1 day: Adults 4,450 JPY. Children 2,300 JPY
Half Day (6 hours): Adults 3,980 JPY. Children 2,200 JPY
4 hours: Adults 3,500 JPY. Children 2,100 JPY
Night (Olympia only 16:00 - 21:00): 1680 JPY
Season pass(valid at Sahoro,
Rusutsu, Yubari and Nakayama Toge ): Adults 78,750 JPY. Children 48,300 JPY
JR 1 Day Packages
You can also buy 1 day ski packages(highly recommended) from the Sapporo station Tourist Information office(pictured below) opposite the JR West gates. Go to the far left side of the help desk to get tickets and information.
Round-trip JR train + Bus + Lift Ticket + Rental Ski/Snowboard Set
Available from December 4 - March 21. Lift ticket is a 4 hour pass and the ski/snowboard set is to be collected at the resort.
Adult: 5,850 yen
Student/Senior: 5,250 yen
Child: 3,600 yen
Round-trip JR train + Bus + Lift Ticket (4 hours)
Adult: 3,750 yen
Student/Senior: 3,200 yen
Child: 2,100 yen
N.B. The 4 hour pass is changeable to a 6 hour pass or 1 day pass with an additional charge. This can be paid when getting your lift ticket at the resort.
6 hour pass: Adult +400 yen, Student/child +100 yen, Senior +300 yen
1 day pass: Adult +1300 yen, Student/child +200 yen, Senior + 800 yen
Getting There
JR trains from Sapporo station leave for Teine every 15 minutes and takes about 20 minutes. From Teine station take a JR bus at bus stop number 70, at the south exit, to Teine Olympia/Highland.
Bus Schedule


---
X = No operation on December 31st
There is also one direct bus on weekends from Sapporo Station Bus Terminal platform 6 at 08:05 stopping at Kita 24 jo Nishi 5 at 08:15 and Asabu Bus Station at 08:30 and arrives at Teine Highland at 09:05.
By Taxi: Takes about 40 minutes from Sapporo Station and costs about 5,000 yen. About 15 minutes from Teine JR station and costs about 2,500 yen.
Free parking is also available if you are going by car.
Important notice
From March the end of March the buses to Teine Highland/Olympia stop. This really sucks balls for those of us who don't have cars because there is still plenty of Hokkaido skiing to do at this time of the season. The JR bus packages stop and the JR buses stop from Teine JR station to the resort. You can still get a train to Teine station but then you would have to get a taxi which would cost around 2,500 yen one way.
For the 2011/12 season there was another bus company that did ski packages until the end of the season. The bus leaves from the front of The Royal Century Hotel just outside Sapporo Station at North 5, West 5.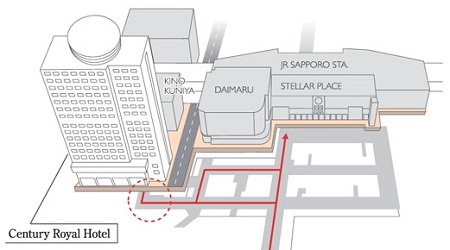 The cost for a bus pack, which includes a return trip and a day pass is 5,300 yen. Call 011-219-4411 (Japanese only) to make a reservation.
from Hokkaido Skiing to Ski Japan
from Hokkaido Skiing to Sapporo Homepage