Log Cabin Houses at 
Rusutsu Ski Resort
The log cabin houses in Rusutsu are frigging awesome. There is an early winter season deal that includes a one night stay, a two day ski pass, unlimited access to the onsen (hotspring), a breakfast buffet, swimming pool, and a return bus journey from Sapporo Japan. All this for the bargain price of, wait for it…………8,800 yen! That's right folks. It's that cheap. The deal is only available from the end of November until the middle of December so usually around this time snow is scarce.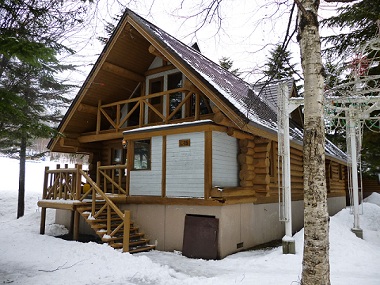 After this time the price is about double. For booking and more details go to the Rusutsu website When we went there was only one lift open on one of the mountains and not much snow. It did puke it down the whole time we were there though. If you are only going for the skiing, then I wouldn't bother. The real reason to go is for staying in the cabin with a group of friends. The skiing is just a bonus. A few in our group just built snowmen and lazed around for the trip and still had a great time.
The log cabin houses are just so beautiful. It felt like I was in a rustic cabin in the mountains in Switzerland or something. They sleep a maximum of 24 people and we were told that they will take a minimum of two people.
Upstairs there is a large room with six or seven single beds, a twin room that can be converted into a double room (push the beds together) for you couples out there. And downstairs has four rooms with four bunk beds. The girls got the upstairs room, of course but the bunks were actually pretty comfortable and I slept very well, with a little help of some booooooze. There's a nice fireplace (fire wood provided) and a large lounge area with a wide screen TV where you can plug in your computer or music systems and get a little party going. We had a horse saddle too!?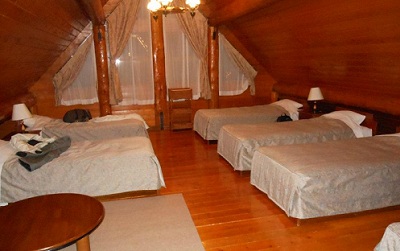 Everything is provided in the log cabin houses. They have tones of towels (take these to the onsen) and hand towels, tooth brushes and toothpaste, and soap. So if you are like me and forget to bring toiletries all the time, you'll have no problem. I just brought my snowboard gear and clothes.
The onsen has a few different temperature pools ranging from freaking hot to bloody freezing, and a sauna. Unfortunately there is no rotenburo (outdoor bath). Hitting the onsen is THE best way to relax after a day shredding. Body soap and shampoo is provided. Also as an extra bonus they provide shaving razors, hair brushes and combs, and hair tonic and hair liquid. I don't really know what the hair tonic and liquid do but I took full advantage of them anyway. After the onsen I felt like a hundred bucks!
The buffet breakfast is awesome with everything from western food like bacon and sausages to Japan food like salmon and ikura (fish eggs). It was the first time for me to see ikura at a breakfast buffet, probably because it's quite pricey. My friends decided to take full advantage and shovelled spoonfuls of the stuff down their throats at a time, while the Japanese guests looked on in horror. Apparently you're not supposed to shove spoonfuls of ikura down your gob.
There are a few restaurants at the hotel but can be quite pricey so we decided to go to the only Izakaya (Japanese style bar restaurant) which was surprisingly very reasonable. Between 13 of us we had Shabu Shabu. This is a shared hot pot filled with a broth that is brought to the boil at the centre of the table. When the broth has come to a boil vegetables are added and then raw strips of meat (pork, beef, or lamb) is swished (shabu shabu means swish swish) around for a few seconds until the meat is cooked, then dipped in ponzu (similar to soya sauce) or sesame sauce and then eaten.
Usually to finish off the dish rice or Ramen is added to the remaining broth, but we were already too full for that. Shabu Shabu is a popular winter dish.
We also had Nabe. This is another shared hot pot but is more like a stew and the vegetables and meat are left in the pot until desired to eat. And we had some sashimi (raw pieces of seafood), yakitori (meat on sticks), a bottle of sake and some other bar drinks. All this came to about 2500 yen each. Bargain. Unfortunately they do not have nomihodai (all you can drink plan) so we had to stock up on booze at the convenience store before it closed at 9pm. Then it was back to the log cabin houses to party. Rusutsu Resort is such a surreal place to be and you are constantly coming across décor that leaves you thinking "what the ……?" The person that designed this hotel must have been on something very strong. There's a singing tree by the main ski entrance, a ferris wheel, and a singing dog band with huge scary eyes to name but a few.
If you are living in Sapporo Japan staying in one of the log cabin houses is a perfect weekend getaway.
Getting to the log cabin houses
The bus leaves from in front of Lawson on the corner of N5W4 and N4W5 opposite Sapporo Station south exit. The Rusutsu office is also located there behind Lawsons on the ground floor.
When you reach the intersection you will see the Azty 45 building diagonally to your right when coming from Sapporo station. Lawson will be just a little further up the street on your left.