Rusutsu Ski Resort
Rusutsu was the place where I learned how to snowboard because the beginner runs are nice and wide so you don't have to worry about crashing into other people.
This resort is definitely up there as one of the best places to snowboard in Japan! My first time here was amazing! There had been a lot of snowfall before I went, so the conditions were great.....no ice!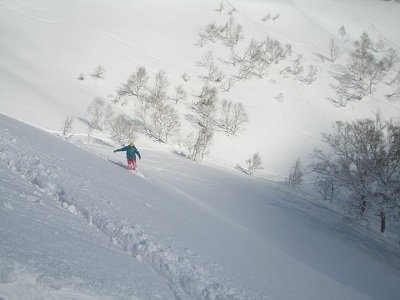 I think this is one of the best, if not THE best place for Hokkaido skiing. The terrain is huge and vast surrounded by scenic views and it gets tonnes of snow every year. There are runs here for all levels so when you start to progress from being a beginner you can then explore the great off-piste runs. Every time I come here I have the best runs of the season without doubt.
Rusutsu resort info
Number of courses: 37
Number of Lifts: 18
Terrain: 30% Beginner, 40% Intermediate, 30% Advanced
Longest course: 3500m
Park Facilities: Rails, kickers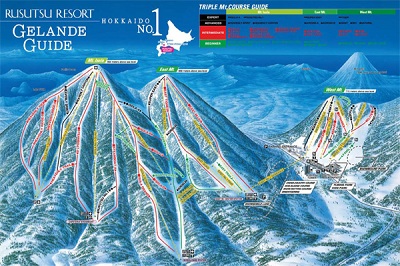 Prices
1 Day: Adult 5100 yen, Children 2550 yen
2 Day: Adult 9400 yen, Children 4700 yen
4 hours: Adult 3800 yen, children 1900 yen
6 hours: Adult 4300 yen, Children 2150 yen
Night skiing (1600-2100 hrs): Adult 2000 yen, Children 1000 yen
Season Ticket(valid at Sahoro, Sapporo Teine, Yubari and Nakayama Toge) Adult: 83000 yen, Children: 49000 yen.
Accomodation
The log cabin houses here are frigging awesome. There is an early winter season deal that includes a one night stay, a two day ski pass, unlimited access to the onsen (hotspring), a breakfast buffet, swimming pool, and a return bus journey from Sapporo Japan.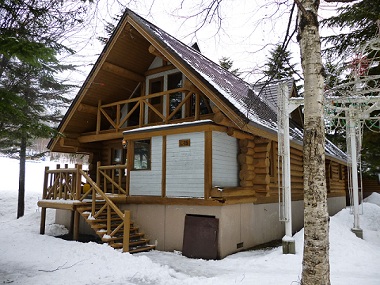 If you can't get a spot in one of the cabins you could make a reservation at the Rusutsu resort hotel.
Getting There
From Sapporo a free return bus leaves for the Resort every morning at 8am which takes approximately 90 minutes. Please arrive 15 minutes before departure. You have to make a booking at least one day before by telephone or at the main office. You can purchase your lift tickets on the bus.
The bus leaves from in front of Lawson on the corner of N5W4 and N4W5 opposite Sapporo Station south exit. The booking office is also located there behind Lawsons on the ground floor.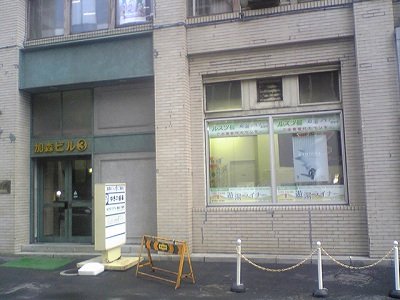 When you reach the intersection you will see the Azty 45 building diagonally to your right when coming from Sapporo station. Lawson will be just a little further up the street on your left.
To make a reservation on the bus call 011-272-3111, or you can make a reservation online through the Rusutsu website.
Since living in Sapporo Japan and going to all the different ski resorts in Hokkaido, season in season out, this resort is my favourite place to shred.