The Best Onsens
in Sapporo Japan
The ultimate Japanese experience is to relax and soak in an onsen (natural hot spring). The Japan mountains around Sapporo have some of the best in the world. There are different kinds of water depending on what region you are in and they all contain minerals that attribute to healing aspects. You will come out feeling so refreshed and relaxed, you'll feel like you are walking on the moon.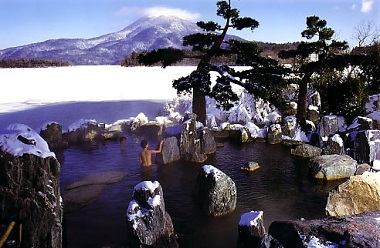 Men and women usually have separate sections but some, out in the countryside, have mixed sex baths.
Etiquette
For everyone to have a relaxing, soothing and enjoyable time there are some rules of etiquette that bathers abide by:
1. You must be naked.
2. You must wash yourself clean with soap, on a stool with a low mounted shower to the side of the pools, BEFORE entering the baths.
3. Do not take a towel, to dry yourself off, into the bathing area. Some people take in small towels but these are mainly used to cover up ones modesty.
4. No food.
5. Some places allow drinks into the bathing area. There are usually signs to inform people.
6. Rinse yourself off before getting changed.
7. No swimming
8. No splashing
Japanese hotsprings are easily accessible from Sapporo station by bus. I usually judge the quality of the bath by its rotenburo (outdoor bath), the view and the water.
Hokeikyou
One of my favourite places is Hoheikyo. It has a huge rotenburo and you can also have a beer while you soak. It is just over an hour out of the city by bus.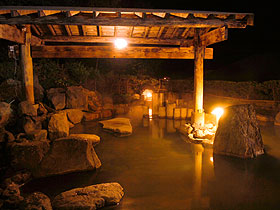 Misaki no Yu
Misaki no yu in Shakotan. Situated in a beautiful National park, 90km from Sapporo City, with stunning views of rock formations along the ocean. Definitely one of my favourites.
Hilton Niseko Village Hotel
Hilton Niseko Village Hotel is located in Niseko, right at the bottom of Mount Annupuri. The rotenburo is defintitely one of the best I have ever experienced. The breathtaking view of Mt. yotei surrounded by forest and nature is a rare sight to behold, especially near Sapporo Japan.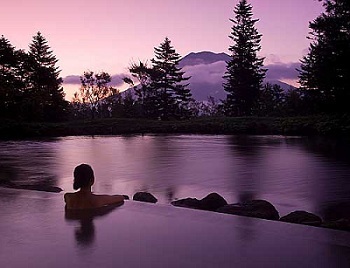 Kohantei Hotel
Kohantei Hotel in Toyako has a beautiful rotenburo (outdoor bath). The hotel is situated right along the lake so you have a fantastic view as you relax and soak in the bath. Lake Toya or Toyako is a famous lake in a National Park, Shikotsu-Toya National Park. Lake Shikotsu is also very beautiful and closer to Sapporo city. In 2008, the Windsor Hotel Toya Resort and Spa in Lake Toya was chosen to hold the G8 summit.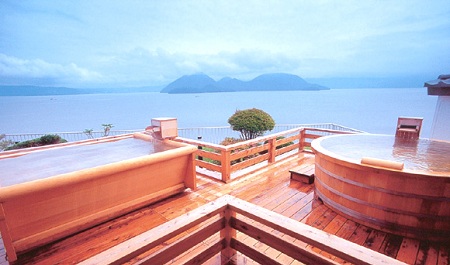 Yukichichibu Onsen
Yukichichibu Onsen in Niseko is possibly the best onsen I have ever been to. There are 11 rotenburos (outdoor baths) in total. Five in one half and six in the other (which also includes a mud bath).