One of the Best Japanese Baths
The Hilton Niseko Village Hotel Onsen
This is one of the best Japanese baths, where from the rotenburo (outdoor bath) overlooking Mt. Yotei, you can really feel the beautiful vast nature of Hokkaido. The indoor bathing area with its classy, modern and spacious interior provides a luxurious mood.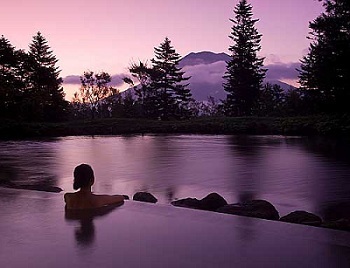 The Hilton Niseko Village (Niseko Higashiyama) Hotel is located right at the bottom of Mount Annupuri - an entrance to the world of nature.
The rotenburo is defintitely one of the best I have ever experienced. The breathtaking view of Mt. yotei surrounded by forest and nature is a rare sight to behold. The bath is also enclosed by a small pond containing large fish that swim upto to the edge of the bath, a unique feature and the only one of its kind at any Onsen near Sapporo Japan.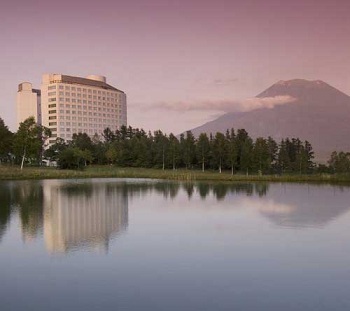 This resort hotel offers plenty of fun all year round with skiing in the winter and tennis, golf, horseback-riding during the summer season.
Make the most of your stay by taking part in their tennis school or a hot-air balloon flight. This hotel takes pride in their preparation of Hokkaido- style dishes using only the freshest of ingredients with menus to choose from to fit any budget.
Hotspring price: Adults - 1000yen, children - 500 yen
opening times: 12:00 - 21:00
Getting There
Address: HIGASHIYAMA-ONSEN, NISEKO-MACHI, ABUTA-GUN, HOKKAIDO 047-1592, JAPAN
Tel: 0136-44-1111, Fax: 0136-44-3224
If you want to stay at the hotel you can book online or call them directly. You will get a discount if you book online.
By Bus
From Sapporo Station Bus Terminal there is a direct bus that costs 2,300 yen one-way. The journey takes approximately 3 hours during the winter but takes less time once winter is over.

The above schedule is valid until March so please call the Hilton Niseko Village Hotel to make a reservation.
By Train and Bus
There are regular trains from JR Sapporo Station. Take a train to Otaru and then a train to Kutchan. The journey takes approximately 2 hours and costs 1,790 yen one-way. From JR Kutchan Station take a bus to Niseko Hilton Hotel.
Adults: 500 yen one-way, children: 250 yen one-way.

By Car
It's about 97kms away by car from Sapporo via State Road 230. It takes Approximately 90 minutes.
By Taxi
10 minutes from JR Niseko Station. (approx. JPY 2,000)
20 minutes from JR Kutchan Station. (approx.JPY 4,000)
from Japanese Baths 1 to Onsen
from Japanese Baths to Sapporo Homepage