TK6 - An Ex-patriot Bar
CLOSED DOWN!
This is a bar that is usually frequented by the ex-patriot community of Sapporo. It has two floors, shows sports from all over the world on their large screens and serves large portions of classic western food, such as burgers, pies and fish and chips.
It is on the ground floor, so the front windows and doors can be opened out in the summer making the place feel larger and more open. There are a few other non-Japanese owned bars and food joints in the city (TK6 is owned by an Australian), but TK6 is the most popular and always has people there no matter what day of the week. You'll especially find people popping in after work for a quick pint, during happy hour.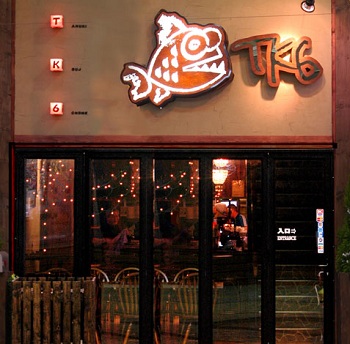 It's a really great place to meet other people in the ex-patriot community, particularly if you are new in town and don't really know anyone. The atmosphere is always lively as the large screens on the wall are constantly showing some kind of sport. This was a great place to watch the football World Cup. Buddy Buddy is also a great alternative for watching the World Cup as they create a larger standing area.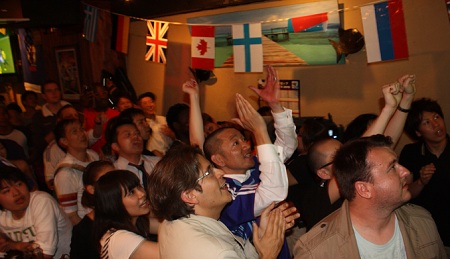 They also have projectors which are used to show big events. The bar stays open late for popular international games, so if you are fan of sports, especially Australian sports, which is virtually impossible to find in Sapporo Japan, TK6 would suit you down to a tee.
The food is also very good. Western food such as burgers, burritos (my personal favourite), meat pies (kinda small), fish and chips etc come in large portions, compared to Japanese sizes, and are very reasonably priced.
There are always Japanese people who come here too, so if you want to meet pretty Japanese girls,or make some new Japanese friends you can, as most of the time they can (or more likely want to) speak English.
Sometimes there are live bands. These nights are very popular and the bar gets packed so be sure to come early to get a good spot at the bar.
One thing that TK6 does not provide that Japanese bars do is a nomihodai (all you can drink) plan. A good idea, as a lot of western people I know in Japan always try to get their money's worth……and then some, at nomihodais. The bar would probably go broke. Norbesa Beer Garden in the summer is a great place for nomihodais and beer games. It still amazes me how nomihodais work in Japan. In the UK, they wouldn't even be considered as people just get too aggressive and violent, but when the Japanese get drunk they more often than not become friendlier, more open and more affectionate. It must be in the DNA. I remember when I first arrived in Sapporo Japan and was introduced to nomihodai. I thought my friends were joking, and me being the tight wad that I am, proceeded to drink myself to oblivion, and continue to do so at nomihodais……well, why the hell not?
Getting to the ex-patriot bar
Address: South 2 West 6
Telephone: 011-272 6665
This ex-partriot bar is located in Tanukikoji shopping arcade, block 6 between Odori and Susukino. It's about a 20 minute walk from Sapporo Station or a 5 minute walk from Odori and Susukino station.