Summer Gate Beach Party
A beach party near Sapporo finally worth writing about.  Summer Gate beach festival which is more like a dance party / rave on Starlight beach( a small area right next to Otaru Dream Beach) is held in early August. 
It's held in conjunction with a local Sapporo nightclub called A Life, so some of the regular DJs from the club spin at the event.  There are also some big DJs that come into town for it.  Daishi Dance, one of my favourite Japanese DJs rocked the beach when I was there and the Cyberjapan Dancers made a special appearance in the evening for all the perverts who attended.
Cyberjapan Dancers
There are beach parties every week in the summer and you can find fliers for them around Sapporo, or if you're down Otaru Dream Beach, most of the bars have fliers for all the events that are happening.
I love my dance music, especially house and trance.  The clubs in Sapporo spin some pretty lame music apart from when a big DJ pays a visit.  The local club DJs can't mix for shit and usually play mainstream boring stuff and seem to play the same set all night.  I'm pretty sure they are just playing a CD on repeat.
The music at Summer Gate beach festival was really good.  Mostly original material with some old school classics mixed in.  One of the A Life resident DJs span and they were rubbish, playing that usual "CD" again.  Not surprisingly the dance floor cleared sharpish.
The party starts at midday and finishes at 10pm with a fireworks show just after it gets dark.  It was the perfect temperature to be dancing on the beach.  Sunny with a cool breeze and the evening was calm and cool.  We rocked up at about 1pm and it was pretty chilled with kids running around and people swimming in the sea.  
Come 5pm and people start packing in and everyone is feeling the alcohol effects so the atmosphere gets more upbeat and frenzy.  When Daishi Dance span on the main stage at 6pm, the beach went frigging nuts.  It brought back memories of outdoor summer raves when I was more youthful and could dance till the next afternoon.  I can't do that anymore.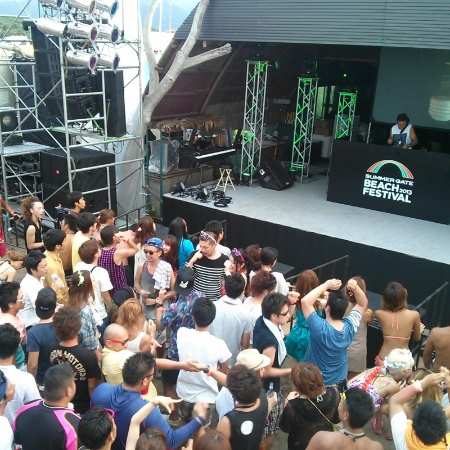 There are three dance stages, a couple of skate board ramps, a bungee trampoline and bars and food stalls.  It's easy to sneak in your own food and drink.  Bags were not checked so we stuck in a couple of bottles of spirits.  The drinks at the beach party are like your regular bar prices; 500 yen for beer or cocktails.  Depending on where you go the cocktails can be rather strong. 
People were very friendly.  We seemed to attract a lot of dudes who wanted to compare muscles and buy us drinks.  Result! I got to meet some of the DJs who were really nervous and polite (I have that affect on people. Ha!)  And of course, there were lots of beach party girls.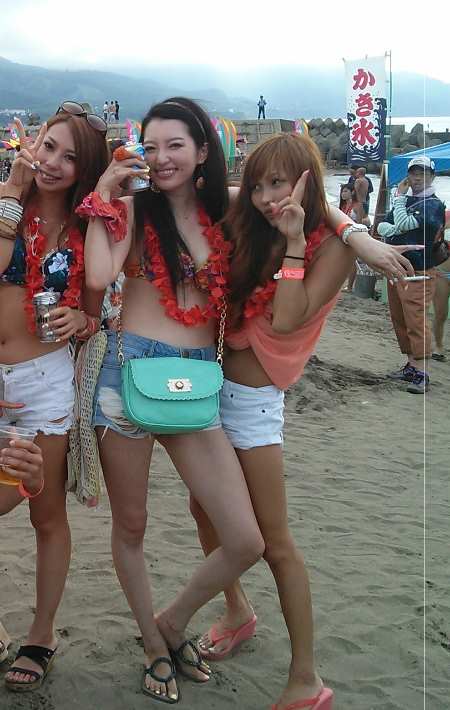 Getting There
Otaru Starlight Beach is about a 20 minute walk from JR Hoshimi station.  We walked from Otaru Dream Beach and it was about 15 minutes.  There is also a shuttle bus from the A Life night club (South 4, West 6) in Sapporo that costs 500 yen one way and takes about 30 minutes. 
Tickets for Summer Gate beach party cost 3,800 yen in advance or 4,500 yen on the door.  Advance tickets can be bought at Lawson convenience stores.
Check out their website for more details.
View
Otaru Star Light Beach
in a larger map
Return from Beach Party to Japan Festivals