A Japan Beach – Otaru Dream Beach
Which Japan beach? Otaru Dream Beach is a very lively party style beach located very close to Sapporo Japan. In the summer beach season it is full of young beautiful Japanese ladies, usually university students because they have their long summer break at this time. I wouldn't say that this is the most beautiful beach I have ever been to, but people don't go to Otaru Dream Beach for its beauty. They come here for the party atmosphere. If you are looking for tranquility and beauty in a beach, head to Ranshima beach, a very nice and one of my favourite Japanese beaches in Hokkaido. The sand at Dream Beach is a grayish brown colour and the sea is warm and clean, not clear, but it's still nice to swim in. You can find bars all the way along the beach front selling cheap food and booze.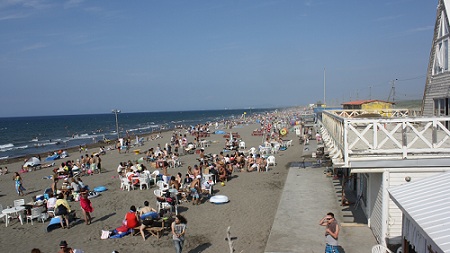 A really great bar that we went to was called Horizon. The manager and staff were so friendly. None of them could speak any English but their communication skills were amazing and we all got on like a house on fire despite the language barrier…..speaking is overrated! It probably helped that they had been drinking all day. This is also a good spot for beautiful Japanese ladies to hang out.
Inside the bar you can find little chill out booths where people can take a nap and get out of the sun. These are always packed, but you also have the option of sitting at the bar or outside on the veranda away from the sun. The food is very simple consisting of yakitori (meat on a stick), chips and big sausages all at reasonable prices. There isn't really a food menu available so the manager was happy to haggle with prices and quantities. He was a real funny unique guy…..loved the high fives.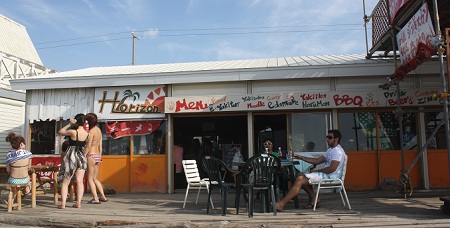 And of course, many people barbecue on the beach and set up tents drinking, swimming and playing games into the early hours. At night, people light fireworks. This is possibly the best Japan beach in Hokkaido for parties. There are regular parties on the weekends, throughout the summer, and a music venue can be found at one end of the beach that hosts parties with dj's and bands playing. The ticket prices vary but they usually start from around 3,000 yen for a day pass. You can usually spot touts around the venue with flyers for the parties so keep an eye out.
The great thing about this beach is that the people are so friendly and approachable, especially if you are western looking. We got approached by three different groups of Japanese girls when we were leaving the beach. Admittedly, they wanted to practice their English, but what the hey, they were really fun. Even when we were sitting outside the Horizon we were approached by some random people. They make you feel very welcome.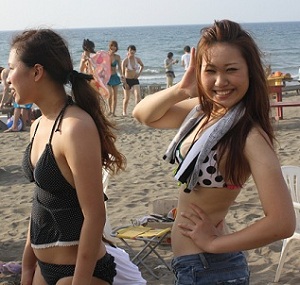 Getting to this Japan beach
If you don't have a car the best way from Sapporo Station is to take a local train to JR Hoshioki station on the Hakodate line. The price is 260 yen one way and takes about 15 minutes.
From Hoshioki station there is a free shuttle bus located opposite the large Co-op, at the end of the bus station, past the taxi rank. It takes about 10 minutes to the beach. You'll see a makeshift temporary sign with bus times to and from this Japan beach.
There are regular buses with the first leaving at 09:00 and the last one at 13:50.
From Dream Beach there are also regular buses returning to Hoshioki station from 16:00 - 18:00. Make sure you don't miss that last bus otherwise it's a bit of a walk back as taxi's are rare to find.
The free shuttle bus operates from the middle of July to the middle of August.
For train times check out Hyperdia.