Top Bar Hives
Flair Bar es
One of my top bar hives in Sapporo Japan is definitely Flair Bar es. They have a free nightly flair show at 11pm.
I found this place completely by accident when I was walking past Macdonalds at the main Susukino intersection. The name, Flair Bar es caught my eye as I've never been to a flair bar since living in Sapporo Japan so I was curious. In fact, this is the only flair bar in town, so I've been told. I've been to some flair bars back home in the UK and the shows were pretty impressive, but they were competitions so performers were coming from all over the county so I saw some real crazy shit. You won't really see crazy flairing here but it still is impressive and entertaining.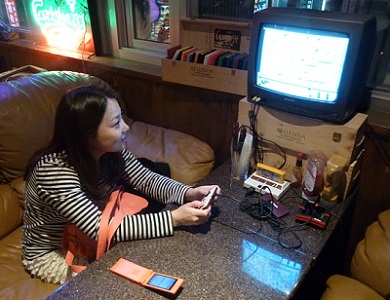 There is a video games corner where you can play classics such as Mario Brothers and Donkey Kong on the Famicom and Super Famicom (Nintendo Entertainment System and Super NES, respectively, to those outside of Japan). And being a child of the 80's and a Nintendo fan, those two consoles were the centre of my life during my teenage years. I actually had a Super NES solid plastic carry case and carried it everywhere I went, chucking it into my mum's car, ever ready for a Street Fighter II challenge. Forget Playstation and SEGA, the Super NES was where it was at! This makes this bar one of the top bar hives in the city
The bar is located on the 8th floor of building right in the heart of the Entertainment district of Susukino so you also have a great panoramic view of the nightlife going on below you. The place is opened planned so you can watch all the young attractive people drinking alcohol and is a pretty good place to do a bit of nampa (picking up) because of the proximity of the tables. Try to get the corner sofa tables if you are in a small group and want a little more privacy. Also, that's where the video games are. The tables are not arranged to really appreciate the view, though. If you really want to appreciate the view of Susukino, watch attractive people drinking alcohol at Electric Sheep, just a couple of blocks down the road.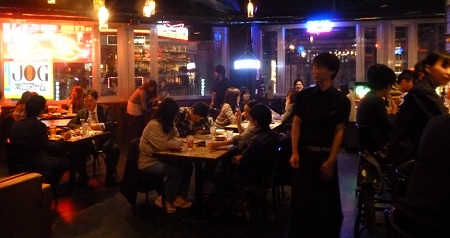 They also cater for large groups and there's always a busy party atmosphere at the weekends. Just make sure to call ahead in advance. The manager speaks pretty good English. It's especially good for birthday parties. If you let the manager know the birthday girl or boy, when it comes to the flair show at around 11pm they'll call out the lucky person and shine a spotlight on them and sit them right in front of the bar where the show happens and create a cocktail for them. Minus all the fancy flairing and flailing the cocktail is actually pretty tasty. I couldn't taste any alcohol though!
The bar drinks are reasonably priced and you can get a regular beer for 500 yen and there is over 100 different cocktails. Of course, as with all the top bar hives in Sapporo Japan, a nomihodai (all you can drink) option is available. It's 2,500 yen for 120 minutes. The bar food here is not really Japan food, but more like western dishes with a Japanese twist. You'll get stuff like pasta, pizza, nachos, salads and fried foods. Check out their website for more details and prices.
Getting There
Telephone number: 011-796-2163
Address: Megumiai building 8F (above Macdonalds at the Susukino intersection), South 4 West 4, Chuo-ku, Sapporo-shi, Hokkaido, 064-0804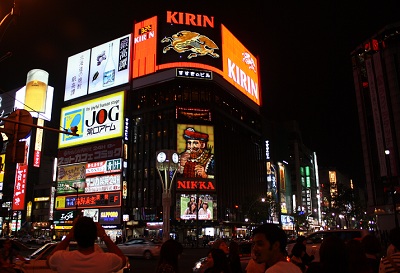 Susukino Intersection Photo by Stephan Johnson
Opening times:
Monday - Thursday 18:00-03:00 (last order 02:30)
Friday - Saturday, day before holiday 18:00-05:00 (last order 04:30)
Sundays and holidays 18:00-01:00 (last order 24:30)