Soup Curry Garaku
by ben
(Sapporo, Japan)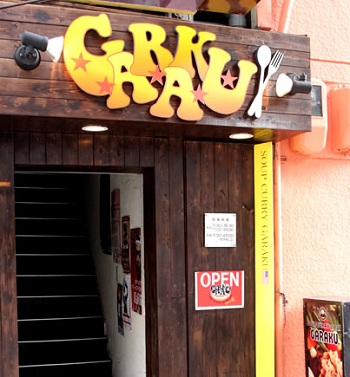 Garaku front
Garaku Garaku Garaku…….. I've been to this trendy little soup curry shop a couple of times since I have been living in Sapporo Japan. The first time was back in 2009. Back in the day, the front of the building with its huge sign board along the South 3 West 2 street displaying a giant bowl of soup curry enticed me in. Good advertising chaps!


At that time the interior was decorated in a 70's style theme with lots of Beatle's memorabilia scattered around the walls and old school American number plates. There were lots of young, trendy people here and was always nearly full. It had a lively, cool vibe about the place, like I had just found where all the cool kids in Sapporo Japan hang out. I had the usual chicken leg and vegetable soup curry dish and it was pretty good but nothing special to what I have had before so not really anything to write home about.
However, the newly refurbished Garaku has made some significant improvements and now the soup curry is awesome. I really wanted to order the kakuni (roasted pork belly) dish as recently I've been really into pork, but it was sold out. I went for my usual chicken and vegetable instead. It was umae! (delicious!). Good rich, tasty broth with lots of natural herbs and spices. The chicken was soft, succulent and fell easily off the bone. I think they could have put in a few more vegetables though. The ones I did get were very yummy, fresh with lots of flavour. The vegetables in soup curry is one of the best things about this dish. Fresh local produce from Hokkaido. The spice scale ranges from 1 – 40. On such a big scale I was lost as to which one to go for (I'm used to scales of 1 – 10), but the cute friendly waitress happily helped me select a number 6 spice which was just right.
These days the big sign is no longer there, so when I decided to go back there, as a friend of mine heard it had been refurbished and a new head soup curry chef had been hired, we were wandering around the block for a while because I was looking for this giant sign which wasn't there. And it was bloody raining!
They have also got rid of the Beatle's memorabilia and gone for a more sleek 70's disco theme with lots of shiny lights and retro posters. There's a cool plaque above the entrance on the 2nd floor with autographs of famous people that have visited. I didn't know any of the signatures but my friend knew a lot of them.
The restaurant was full and we had to wait 30 minutes to get seated. My friend told me that the reason Garaku has become so popular recently is that the head chef from
Suage
works here now and supposedly he is kind of famous in the soup curry world in Sapporo Japan.
I can't remember his name but the soup curry was excellent. Also, gossip from the soup curry vine is, because of his transfer Suage's reputation has dropped a bit and a lot of its customers have abandoned them and gone to Garaku. Talk about loyalty and the power of soup curry chefs!
It's conveniently located in between Susukino and Odori. It's great that I'm discovering more more excellent soup curry restaurants in the main downtown areas. The front entrance is on ground level with stairs leading up to the second floor.
Address: South 3, West 2, Chuoku, 2F, Sapporo
札幌市中央区南3条西2丁目7串とりさん2F
Opening times:
Monday to Saturday lunch: 1130 – 1530 (last order 1500)
Monday to Saturday dinner: 1700 – 2330 (last order 2300)
Sundays: 1130 – 2200 (last order 2130)
Telephone: 011-233-5568
View Larger Map