Suage Soup Curry
by Ben
(Sapporo, Japan)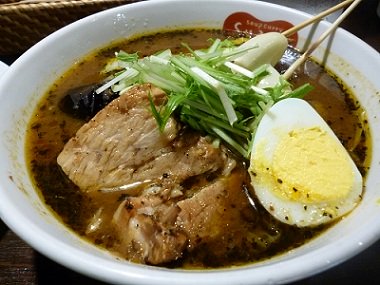 Kakuni soup curry
This is great. I have been finding more and more really good soup curry restaurants in the down town areas of Sapporo. The latest one being Suage in the Susukino entertainment area. It is located opposite the big Norebesa building (the building with the huge ferris wheel on the roof) in Susukino.


I had been recommended this place by my Japanese friends for a while, but some reason I had never been there. After being recommended Suage for about the 5th time I just decided to do it and said to my Japanese friend "ima ikou yo!" (let's go now!) and I wasn't disappointed.
The chef of Suage is supposed to be famous for his soup curry. I don't really follow soup curry chefs but apparently the Japanese do.
Just after we got our seats on a Saturday about 6:30 pm the restaurant started to get busy and a queue was beginning to form. Lucky us! It was clear that this place was very popular.
The interior was different from the usual bohemian, hippy style (a common occurring theme) that I have experienced in a lot of soup curry restaurants. Suage felt more like a wine bar with it's dark lighting accompanied with a few lamps strategically placed around the red walls, boudoiresque (is that even a word?)
I ordered the Kakuni (fatty pork belly) with the regular soup, and melted cheese on top of the rice, and a spice level of 6. The soup was really good; thin, oily, with some nice herbs and spices and the spice level of 6 was just perfect. The kakuni wasn't the best I have had and could have been just a tiny bit softer so that it would melt in the mouth. Still, I was very satisfied with my choice and in general, I would definitely go to Suage again. I will "pay it forward" and recommend it to my friends.
Opening times:
Monday-Saturday: 11:30 – 22:30 (last order 22:00)
Sundays and public holidays: 11:30 – 22:00 (last order 21:30)
Telephone number: 011-233-2911
Address:
South 4, West 5, 2nd floor, Central ward, Sapporo
The entrance is directly opposite the south side of the Norebesa building. Look for a red neon lit sign outside the building on ground level. Suage is about a 5 minute walk from Susukino subway station.
View Larger Map