Top Public Bath - Kura No Yu
Want a public bath? Where are good ones in Sapporo Japan? Check out Kura no Yu, one my favourite sentos with a great rotenburo (outdoor bath).
Conveniently located next to JR Naebo station. This sento has a large bathing area with two outdoor baths, a sauna and two indoor baths.
One of the rotenburos(outdoor bath) is a rectangular pool underneath an open air roof, so that you cannot be seen from the outside. The other rotenburo is constructed with manmade "rocks" in a "cave" providing a natural outdoor experience. There is no open air roof above this one so you can shield yourself from any rain or snow.
Unlike most sentos, Kura no Yu does NOT provide soap or shampoo so remember to bring your own, or you can buy everything you need from towels to razors at the vending machine when entering the premises.
Prices
Adults (12 years and above) 420 yen
Children (from 6 – 12 years) 140 yen
Children (under 6) 70 yen
There are lockers to your right of the entrance to put your shoes. It costs 100 yen to use them but don't worry you get your money back.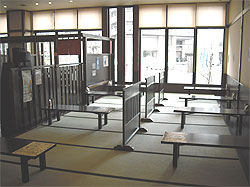 There are lockers in the changing room for your items and other valuables for 100 yen which is also refundable. The lounge is also very comfortable and well equipped with a seating area and TV and a tatami (Japanese straw mat) lounge.
If you are feeling hungry after your soak, the sento also has snack corners and a restaurant with very reasonably priced Japanese food.
Here, you'll find dishes such as ramen or Japanese noodles , katsu curry (pork cutlet fried in breadcrumbs), gyudon (bowl of rice with strips of beef on top)and more.
Getting There
Address: North 2, East 13
Opening hours; 10:00 – 23:00 (last entry 22:30)
Telephone number; 011 200 3800
From Sapporo JR station take the train to JR Naebo Station. It costs 160 yen one way and will be the next stop (approximately 5 minutes). From JR Naebo station cross the road and turn right. You will see the car park of the public bath on the left after about a two minute walk along the main road. Look out for a large sign in Japanese. There will be no English.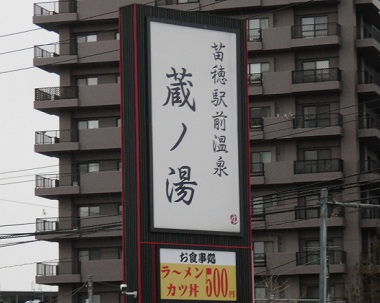 from Public Bath to Japanese Bath
from Public Bath to Sapporo Homepage