Japanese Temples
Hokkaido Shrine
One of the most popular Japanese temples in Hokkaido. Located in Maruyama Park, Sapporo Japan it is a beautiful and serene place where people go to pray.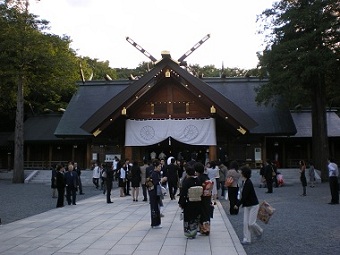 In 1869 the Meiji Emperor decided to enshrine three Shinto Deities: Sukunahikona, Ookunitama and Ookuninushi. They became the three deities of Hokkaido. The building for the shrine was built in 1871 and was called "Sapporo Shrine"
In 1964 the Meiji Emperor's soul was enshrined to the shrine and the name was then changed to "Hokkaido Shrine".
When to visit Japanese Temples
The usual time to visit is during the New Year holidays at the beginning of January when people go to pray for the coming year. You will see crowds of people getting Omikuji (fortune written on a slip of paper). Pay about 200 Yen and you can pick your fortune from a box. There are English ones available too. If you don't like your fortune, tie it up on the nearby rack and get another one! If your fortune is good then keep it in your wallet or purse for the whole year. Good luck!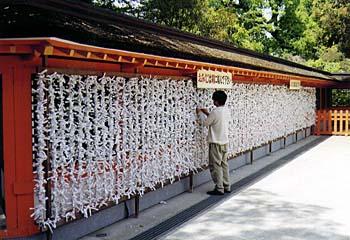 Other times to visit Japanese temples is on November 15 which is Shichi-go-san or Children's Shrine Visting day in English (Literal translation is seven-five-three). When boys become three and five years old, and when girls become three and seven years old visit the shrine in their traditional Japanese wear to pray for the healthy growth of children.
The best time to visit Maruyama park is in Golden Week. During this time is Cherry blossom season and when everyone goes to the park to barbecue under the trees and party all day. The barbecue season lasts for about two weeks in Maruyama park and this is the only time that barbecuing is allowed all year, so it shouldn't be missed. The atmosphere is awesome and it's so much fun. Try to get there early, like around 10 am to find a good spot because it gets completely full, especially if you are going with a large group. 
Cherry blossom season is one of the best places to meet people as everyone is out to have a good time and usually drunk and very friendly. Being a foreigner, you are most likely to be approached.
Sapporo Matsuri
Every year from June 14th to the 16th a Japan Festival, "Sapporo Matsuri" is held. This is the main festival of Hokkaido Shrine. At this time you will see a line of people carrying a Mikoshi (portable shinto shrine) parading down the streets leading to the shrine.
The mikoshi is believed to carry a divine spirit of Japan and locals will carry it chanting and waving it down local streets.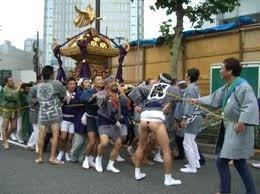 Getting There
Address: Miyagaoka 474, Chuo-ku, Sapporo
Access: A 15 minute walk from Maruyama koen Subway Station on the Tozai Line (Orange)
Parking: available
Contact: 011-611-0261 (Office of Hokkaido Shrine)