A Japan Festival: The Hokkaido Shrine Festival
The Sapporo Matsuri is a Japan festival. Hokkaido Shrine is one of the most famous Japanese temples in Hokkaido and holds a celebration every year from June 14th to June 16th. During the day time you can see groups of people carrying a portable shrine, chanting and grunting in the main downtown areas of Odori and Sapporo. The men take turns parading the portable shrine around town wearing Heian era costumes, usually with no trousers!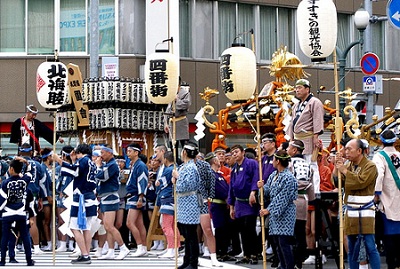 In the evening there is a festival with many Japan food stalls, horror shows and some carnival games, such as "hit the coconuts". The festival is held in the beautiful Nakajima Park, a short subway ride from Sapporo Station. This is probably the busiest festival I have ever been to in my life, busier than any music festival because the pathways in Nakajima Park are very narrow so it gets very congested very quickly. I was at a standstill every five minutes when walking through. It gets much better once you get past the paths and into the open ground area with all the carnival shows and games.
Everyone comes to this festival. I also noticed a lot of young people dressed up like they were going out for a night on the town, so the festival is probably a good opportunity to meet some attractive people. It's such a great atmosphere because it's usually mid week and everyone is excited to have something to do afer work or school. Also the beautiful surroundings of Nakajima park add to it. You can even row boats in the lake, which is usually packed with couples.
You'll find the usual Japan food being sold in stalls such as yakisoba (fried noodles), yakitori (grilled meat on a stick), chips and hot dogs. The food is very expensive and pretty bad. I had some yakitori but it was under cooked, so I asked them to cook it some more, but it was still under cooked, so I left it. The beers were 500 yen for a small can.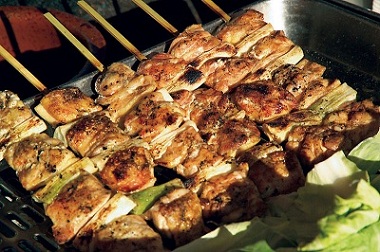 Getting to this Japan festival
The parading can be seen at the main intersection of Odori, a ten minute walk south from Sapporo Station.
For the evening festival take the Namboku subway line (green line) to Nakajima Park. From Sapporo Station it costs 200 yen one way and takes about five minutes. Or you can walk from Odori and takes about 20 minutes.