Japanese Beaches - Ranshima
Beautiful Japanese beaches are difficult to find, but there are a few nice ones near Sapporo Japan. They are not the golden sandy kind with turquoise coloured water (you won't find that in Japan), more like the sand is a light grey colour with clear sea. Ranshima beach is my favourite in Hokkaido. It is situated in a cove surrounded by mountains and forests, with light grey sand and clean clear water. It actually reminded me of a beach I went to on Koh Samui Island in Thailand. Ranshima beach isn't as beautiful, obviously, but the landscape was very similar. The beach is a five minute walk away from a main road so it is also very quiet and undisturbed so you really feel like you are in another country, especially as Japan is not particularly well known for its beaches, except Okinawa maybe.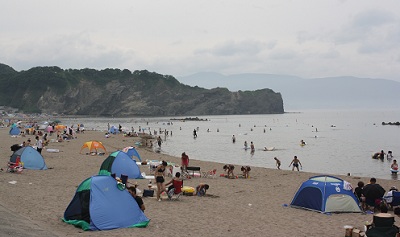 The beach is opened to the public from July until the middle of August when you'll be able to find some small shops and stalls selling your typical Japanese food, such as yakisoba (fried noodles), Zangi (fried chicken) and yakitori (grilled meat on a stick). The beach is quite far from Sapporo, further than one of the more popular Japan beaches; Dream Beach in Otaru so it never gets over crowded.
In the summer people barbecue and camp over night, drinking and setting off fireworks into the early hours. The sea is fairly warm in Hokkaido at this time of year but the temperature drastically drops after Obon (festival to worship ancestors), around August 15. The beach closes around the end of August but it is still possible to go there. It's just that everything will be bordered up closed and people from Sapporo will not be there, or anyone else for that matter.
I went in September with some friends one year to barbecue and camp overnight because the weather was nice, not scorching hot, but pleasant enough, and the beach was completely deserted. It felt like the aftermath of the apocalypse and we were the only survivors…..eerie. We had the whole beach to ourselves so we camped, barbecued, built a fire and got drunk.
Getting to one of the best Japanese beaches
From Sapporo JR station take a train to Otaru JR and then another train to Ranshima JR station. It takes about an hour depending on your transfer time in Otaru. Check out Hyperdia for train schedules.
It costs 900 yen one way. Once you arrive at Ranshima station it's about a 10 minute walk to the beach. You'll pass a convenience store on the way. Cross the main road. All the alleyways along the main road will take you to the beach.
You could also take the bus from Otaru JR station bus terminal which takes about 20 minutes and costs 360 yen one way. The train to Otaru from Sapporo costs 620 yen one way. The train is less hassle and cheaper but it's worth getting the bus if you miss your transfer at Otaru and you want to get in as much tanning time as possible. You must go as Ranshima beach is one of my favourite Japanese beaches.