Zepp Bar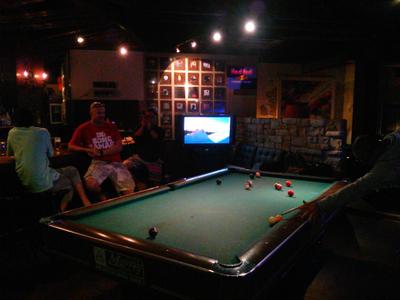 Zepp Bar is one of the few bars in Sapporo where there is a free pool table. It's chilled, usually quiet, so a good place to go with some mates for some beers and pool. Even on Saturday nights I've had no problems getting on the pool table. There is only one table by the way.


Zepp Bar is attached to the Zepp Sapporo music venue where they regularly have live bands playing, near Nakajima Koen. From Nakajima Koen subway station it takes a few minutes on foot.
They have a nomihodai (all you can drink) plan for 2,500 yen and lasts all night. They also have some pretty good food.
Make sure you order the nomihodai plan if you are gonna have more than a few beers, otherwise they will charge you beer by beer. They don't let you pay as you order so your beers will rack up without you knowing and you'll end up paying much more than the 2,500 nomihodai plan. You have been warned!
This has happened a number of times to friends of mine. They didn't order the nomihodai plan, had a few beers and their bill ended up being about 3,500 yen. Just make it very clear from the start what the deal is and you'll be fine. The staff don't speak English but they are friendly. Because it's usually quiet the bar girls will also get involved on some pool action. They suck though!
The bar closes around 4 am, maybe later.