Yozora Jinghis Khan
by Daz
(Sapporo)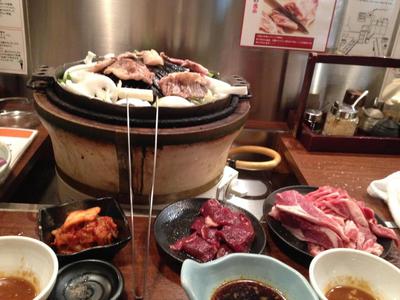 Lamb and ezo shika
This place is lamb heaven!! ジンギスカン(Jinghis Khan) is one of my all time favourite foods! It has totally replaced Yaki-niku in my repertoire of restaurant eats. I have tried a fair few Lamb BBQ spots around Sapporo and all have their good points and their bad points, but this one has only good points....well actually its bad point is that its often too busy to get a table if you haven't already booked!!


Located in the MY Plaza (プラザ) building on Minami 4 Nishi 4, near Susukino, this place has 2 restaurants.....one on the 9th floor, specialising in Lamb marinated in their own tangy, garlic sauce (this shop is called Aji-no Yozora Jinghis Khan 味の夜空ジンギスカン) and is a stand out in its own right, but the best one in my opinion is on the 10th floor. THIS is the signature Yozora Jinghis Khan, Yozora means night sky view and from the cosy interior you can view out over the rooftops of Sapporo and view the stars whilst wolfing down the tasty meat. The meat on the 10th floor is served nama, it hasn't been marinated and is the natural flavour. They have a good tampin selection menu where you can choose meat from New Zealand, Australia or Hokkaido. They also sell beautiful cuts of Hokkaido venison (Ezo shika) to enjoy along with the lamb. When I go I always go for the nomi-tabehodai, the all u can drink and eat option, if you get a coupon from Hot Pepper you can enjoy 2 hours of drinking and eating for the price of 90 mins, 3600¥. The
meat is top quality and if you sit at the counter you can see the owner slicing up the meat to order. He is a really friendly guy and is always willing to have a chat with you as he works, having not been for a while, I went last week and he said how happy he was to see me again and gave us a plate of ezo shika to enjoy on the house! They serve the meat with 2 types of dipping sauce, a regular jinghis khan sauce, which is really nice especially when you add the chilli flakes and a dollop of minced garlic, but the best sauce IMO is the house sauce. Its a tangy, garlicky sauce the same as they use downstairs in the marinated-lamb restaurant. It goes great with the fresh flavour of the meat.
Now be warned, if you want a seat here you will have to book, even on a quiet Tuesday night!! It actually starts to tail off from about 8-8.30 so a walk in late on is possible, but if its a weekend you are aiming for then they are pretty much booked out all night. Sometimes you can get lucky and get a table on the 9th floor instead and while its good, its not AS good as upstairs. They have recently opened a spillover restaurant around the corner above McDonalds on the 5th floor, I haven't been there but I assume its just as good as this one.
If you are looking for a stand out Jinghis Khan place in central Susukino....this is the place.