Yakitori at Fujitori
by Ben
(Sapporo, Japan)
Fujitori is an awesome Yakitori (grilled things on sticks) that has a great authentic Japanese feel and the food is so good. Probably the best yakitori I have experienced so far since I have been in Japan, and I have eaten A LOT. I just love it!


I was recommended this place by a friend because usually I go to Kushidori, which is a large chain. Kushidori is good and there are lots of them all over Sapporo so they are very convenient, reasonable and the food is good. But, I wanted to try somewhere new and so decided to try out Fujitori.
My Japanese friends later told me that this place was very popular in Sapporo and they were envious when I told them that I had been there. After speaking to them, they all went too! So as you can guess it was packed, always a good sign. Luckily we didn't have to wait to be seated but had to sit right next to the entrance way, so we received a short, cold wind blast every 15 minutes.
The tebasaki (chicken wings) are awesome. They serve them to you de-boned on the stick, yep that's right, so you don't have to get your pretty little manicured finger nails dirty with meat juice. "benri da!" (convenient) said my friend.
Another one of my favourites is cheesu tsukene (minced chicken with cheese). I order this every time I go to a yakitori restaurant. This was really good, lots of meat and very succulent and juicy. It just fell off the stick. Yum Yum. The one at Kushidori has melted cheese INSIDE!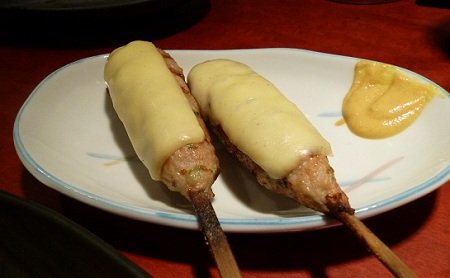 The staff at Fujitori are amazing too. They hung up our coats and gave my friend a free lighter. One guy heard us from the other end of the bar when we were talking about getting another beer, and brought them over before we even ordered. Their ears are always on the hear-out. Top quality service for no tips. Only in Japan.
At the end we topped it all off with a miso and cheese Zosui (a porridge like dish of rice cooked with miso soup and topped with melted cheese in a hot pot). Zosui is rice cooked with the remaining soup of
nabemono
(hot pot) which is eaten after the meal, later on when you start to feel hungry again.
It doesn't look like much, but it is soooo good, very rich and sloppy and made me feel warm inside, perfect for those cold winters in Sapporo.
Fujitori is found on the ground floor, down a side road between South 4, West 5 and South 4, West 6.

View Sapporo Local Restaurant Guide in a larger map