Tony Roma's Sapporo

(Sapporo, Japan)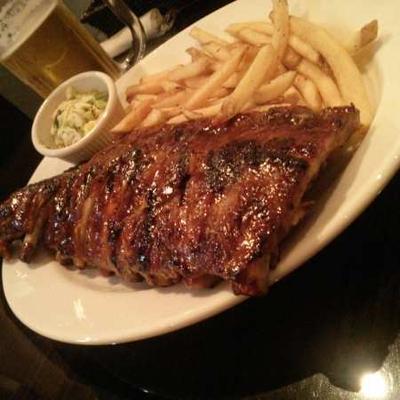 Baby Back Ribs
I had never heard of Tony Roma's before. We don't have them in the UK, but they should! Tony Roma's is awesome. It's not Japanese food and if you are visiting Sapporo then you might want to stop reading. For you locals missing some good food back home read on.


A lot of people who have Tony Roma's in their home towns think it's probably nothing special. I'm sure if there's one in yours, there is probably a better steak and rib restaurant somewhere else. However, in Sapporo there are NO rib restaurants anywhere, so it's a big deal (for me anyway). You can find ribs in some restaurants but they are small and expensive. I have only eaten ribs once in Sapporo, Japan since 2007, and that was part of a set course. They were good, but we only got a tiny piece each. I wanted more. Tony Roma's is famous for their Baby Back ribs and now I know why.
The first Tony Roma's restaurant came to Sapporo, Japan in April 2013. I heard this through my foreign friends who were so excited about being able to eat huge delicious ribs. My Japanese friends were not so excited, probably because they had never heard of it before either. One of my friends went there for an all-you-can eat ribs special day. I think they were only doing this during opening week, as it wasn't available when I went. He ate 32 Baby Back ribs!
I ordered a rack of eight Baby Back ribs with fries and could of possibly ordered another smaller portion.
They were soooo good with lots of tender, juicy meat covered in Tony Roma's original BBQ sauce(I'm drooling as I'm writing this). There is also a pretty good cocktail menu, similar to TGI Friday's, but not as vast. That's another restaurant Sapporo needs! We ordered ribs and some desert and between two us the bill was less than 6,000 yen including drinks (quite a few drinks).
There are also steaks that I are also pretty good, but I've had better. There are combo options of steak and ribs too. Next time, I might try a combo but the main appeal of Tony Roma's is the ribs.
The restaurant is huge with spacious booths and lots of space for large groups. There are some cool bar seats too, if you feel like chowing down on some ribs solo. They usually have a movie playing above the bar. ('Nine' was showing during my dinner time).
Surprisingly the restaurant was not fully booked on a Friday night. It was busy but we didn't need a reservation and was seated immediately. For large groups a booking is recommended, but if it's just two or three of you, just rock on up.
It's conveniently located on some prime real estate, right opposite the Tokeidai (Clock tower) between Odori and Sapporo Station, on the ground floor so you can't miss it.
Opening times:
11:00 – 23:00 (food last order 22:00, drink last order 22:30)
Friday, Saturday and National Holidays 11:00 – 24:00 (food last order 23:00, drink last order 23:30)
Telephone: 011-206-9222
Website: http://www.tonyromas.jp/en/
View
Tony Roma's Sapporo Japan
in a larger map