The Meat Shop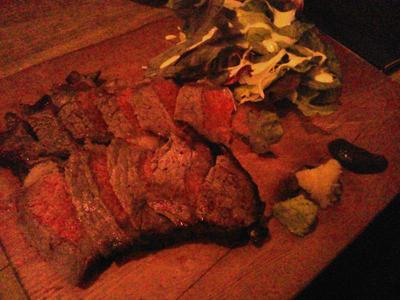 Steak
Meat, meat, meat! Yes, that's what you get (and lots of it) at the aptly named The Meat Shop in Sapporo Japan. It opened its doors in early 2013 and hasn't disappointed any carnivores as of yet. I don't eat much steak in Japan as Japanese steaks are very different from their British counterparts. Japanese steak has a lot more fat in the meat, giving a marble effect. It's a lot softer and lacks the toughness that a good piece of British sirloin has. Japanese beef is a lot more expensive too, which is the biggest reason I rarely eat it. The Japanese cows are fed beer or sake to produce more fat in their meat (What a great country to be a cow!)


The Meat Shop is a great place for a steak. The beef is from America or Australia and to perfection; medium to rare with lots of pink in the middle. There is a good selection of beef, venison, lamb, pork and chicken. We shared 2kg of beef sirloin steak because I hadn't eaten a steak for about a year, so my mouth was drooling at the pictures. It was also the most popular dish on the menu and every other table in the restaurant had a slab of it.
It's a stylish restaurant with a relaxed atmosphere and ambient lighting. Be sure to make a reservation on the weekends. I made that mistake, the place was fully booked but luckily a couple left 15 minutes after we arrived.
We ordered some pate for an appetizer. Well worth it and very generous with the pate. Also a chicken salad which was huge, and more suited for three of four people. Definitely not two, and finally 2kg of beef steak accompanied with three different kinds of condiments; barbecue sauce, wasabi, and a ginger and wasabi mix. The ginger and wasabi mix was pretty close to horse radish.
We finished dinner off with a slice of gorgonzola cheese cake. The cheese cake was rich and you could really taste the gorgonzola. A bit too strong for me. I actually prefer the cheap, fake cheese cake from the convenience stores (the cheesiness is less prominent, if at all).
The food plus a couple of beers and bottle of red wine came to just over 8,000 yen for the two of us. Well worth it for that juicy steak!
The Meat Shop is a five minute walk from Odori Station.
Address: 3 Chome Kita 1 Jonishi, Chuo Ward, Sapporo, Hokkaido Prefecture ‎
Telephone: 011-231-2909
View Larger Map