Soup Curry Lavi Lavi
by Ben
(Sapporo, Japan)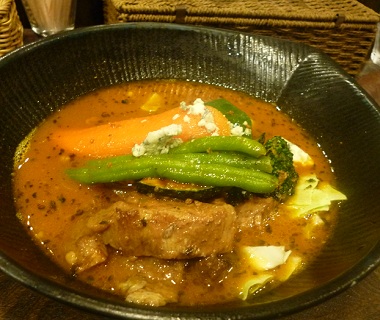 Kakuni with goats cheese
There is a Lavi Lavi branch of soup curry in Sapporo Station. Hurrah! It's located on the 10th floor of the Esta building department store. This is probably, no……it IS my favourite soup curry restaurant in the Sapporo Station area. Actually, Lavi Lavi is one of the few soup curry restaurants at Sapporo station so it doesn't really have much, if any competition. So if you are shopping or you are planning to go to the cinema to check out the latest summer blockbuster and you get that soup curry craving, Lavi Lavi in Esta is the place to go.


As always a good sign of a good establishment is the number of people eating and Lavi Lavi is always busy. Usually there is a queue outside but the wait is not long, only about 5 or 10 minutes. Well worth the wait.
The interior has lots of pinks and browns and I think it's trying to portray a 'Hawaiian' kind of feel, but I don't think it really works. There are some cool paintings on the walls and half of the restaurant is divided by these peculiar fence like barriers. It felt like I was eating soup curry in a wooden prison cell or something……… 10 points for creativity though!
There are four different kinds of soup you can choose from, some at extra cost, or you can go for the standard original soup (yummy with medium thickness, meat based and good herbs and spices) for no extra charge. And for you veggies they have a shrimp based soup! I haven't come across this before in any soup curry establishment. Haven't tried it either but that will be my choice next time.
The spice scale goes up to 50 for free! I went for spice
number 7. I don't know why but when the scale is so large it's so hard to choose what level to go for, but in my experience 1-10 seems to be a good range to make your choice. 7 was just right. I chose 3 before, but it wasn't spicy enough. I like the spice to linger more and give me a little kick at the back of the throat.
I wanted to order the Ezo shika (Hokkaido deer) but it was sold out. It's the first time for me to see Hokkaido deer on a menu at a soup curry restaurant. Therefore, I went for the standard soup with kakuni (fatty pork belly) and vegetable. Kakuni is my favourite kind of meat at the moment so I've broken away from my usual of chicken leg, making kakuni my new regular. It was good, not the best I have had, but I was given generous chunks of succulent pork that was well cooked and soft with lots of flavour. My friend went for the same but couldn't eat all the pork so I got extras!
One downside was the lack of vegetables. Usually it's the fresh vegetables that can make soup curry so delicious. For you cheese lovers out there, Lavi Lavi has an optional topping of 4 different kinds of cheeses, I went for the mozzarella melted over the kakuni and my friend went for the goats cheese. Both excellent. Oh and keep a lookout for their soup curry of the month, another reason to come back again and again!
Address:
ESTA building, Sapporo Station, 10th floor.
Lavi Lavi has 6 soup curry branches around Sapporo. For more information check out their website at http://www.011bros.com/lavi/shop/index.html
Opening times: Open every day 11:30 – 22:00 (last order)
Telephone: 011-232-2020