The Sapporo Ice Festival
The Sapporo Ice Festival in Susukino is one of the three sites of the Sapporo Snow Festival where you can see hand carved ice sculptures (as opposed to the giant snow sculptures at the Odori Park site) down the bustling streets of the city's red-light district, and is a fun winter Japan festivals. This site is more relaxed than the Odori park venue. There's not so many people and it doesn't feel as full on. You can just stroll around and stop at the various tents serving some warm food and hot drinks. I especially recommend some hot nabe (hot pot) to warm your insides. You could also pay a visit to some of the outdoor tent bars, if you can stand the cold.
The third festival site was established in 1983 and every year a female beauty contest known as the Susukino Queen of Ice is held here. Below is a photo of two of the contestants among the hundreds of entrants from the Susukino area.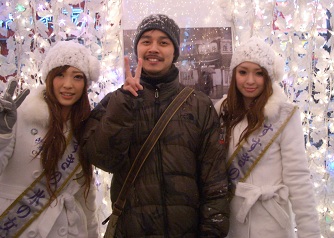 Susukino is a red-light district located in Chuo-ku, Sapporo Japan and is one of the biggest red-light districts in Japan along with Kabukicho in Tokyo. The name Susukino directly translates as "Zebra grass field".
The Susukino Tourist Association defines the area as being located between South 4 and South 6, and from West 2 to West 6.
The main area is at the Susukino Crossing which is also a regular meeting spot, where you can see male hosts hanging out to bring punters to their bars, and is where the Sapporo Ice Festival begins. It is located between West 3, South 4 with many neon signs along the street. You can't miss it.
The video above shows an "amazing", sparkly tunnel located at the centre of the ice festival.
In Susukino there are many places to go to for adult "entertainment", such as hostess clubs, snack bars, etc and you can always see people in the street holding out large cardboard cut outs displaying photos of half naked women to entice you into their places. Be careful though as some can be very very expensive.
There are also establishents for women and male hosts (they have big hair, very tight, camp clothes and obscenely pointed clown shoes) are a regular scene at the main Susukino intersection trying to pick up rich punters. Hang out for a few minutes and watch these guys get repeatedly knocked back. You gotta have a real tough skin to do this job, and massive balls!
Getting to the Sapporo Ice Festival
From Sapporo Station take the Namboku (green line) subway line to Susukino. It takes about 5 minutes and costs 240 yen one-way. Alternatively, it is a short walk south of Sapporo Station through Odori Park and takes about 20 minutes. The Susukino Crossing is at West 3, South 4.