Samurai Soup Curry
by ben
(Sapporo, Japan)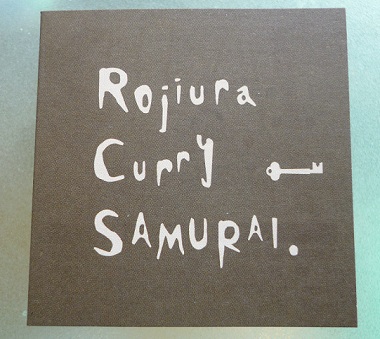 Samurai logo
Samurai Soup Curry is awesome and has four branches around Sapporo Japan. The soup here is rich and thick and you have three options to choose from: the regular soup, which is a mix of tomato and meaty stock, the tomato base soup, and the coconut base soup. All are delicious, but my personal favourite is the coconut soup. It has a little twinge of thai green curry to give it a little edge to the other two soups.


One of the things about Samurai Soup Curry that makes it different from other soup curry shops is the menu. It is huge and there are so many options and add-ons and extra this and extra that to order. I was kind of overwhelmed and needed quite a bit of time and recommendations from my friends who are regular eaters here.
Apart from the regular menu there is a special menu called "Samurai Matsuri" which they have on the wall. You can choose three different kinds of toppings from the menu to have in your soup curry, so if you are not sure whether to order the chicken or the pork or the shrimp, well now you can order all three. obviously the portions are smaller but the dish is defintely big enough to fill you up and appreciate the toppings. Oh yeah, and on top of your toppings there are standard vegetables that come with every dish, which includes brocolli, carrots, potatoes, an egg and more. I ordered from the "Samurai Matsuri" menu, fried chicken leg, kakuni (slow cooked pork belly), and yaki mochi cheesu (Glutinous sticky rice mixed with cheese and then deep fried), with coconut soup, spice level 7 out of 20. It was so good and the spice was perfect.
Alternatively you can order straight dishes, such as chicken soup curry, or kakuni from the menu. Or you can also try the monthly soup curry.
It's a little pricier at Samurai than other soup curry restaurants, but it's worth it. Be expected to pay upto 1,400 yen.
Branches:
Susukino branch:
Address: South 3, West 6 ティアラ36 building 2F
Telephone: 011-272-3671
Lunch: 11:00 - 16:00
Dinner: 17:00 - 23:00
North 19 branch:
Address: North 19, West 5
Telephone: 011-709-9480
Lunch: 11:00 - 16:00
Dinner: 17:00 - 23:00
Nishino branch:
Address: check samurai-curry.com for directions
Telephone: 011-671-9480
Lunch: 11:00 - 16:00
Dinner: 17:00 - 21:30
Hiragishi branch:
Address: check samurai-curry.com for directions
Telephone: 011-824-3671
Lunch: 11:00 - 16:00
Dinner: 17:00 - 21:30