Eat Okonomiyaki at Fugetsu
Okonomiyaki is probably be the most fun Japan food you will ever experience. I remember trying it for the first time with my Japanese friends and we were in histerics trying to create the craziest design.
What strange ideas can you come up with?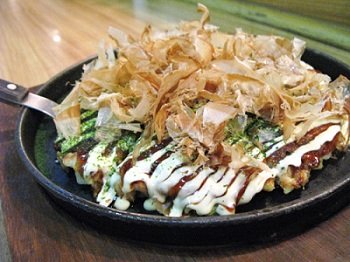 What is Okonomiyaki
It's a japanese style pancake that looks like an omelette and contains flour, eggs, pork, prawns and a choice from a variety of other ingredients topped with mayonnaise, dried fish flakes, seaweed and okonomiyaki sauce (like Worcester sauce but thicker and sweeter).....doesn't sound great does it? But this combination is surprisingly delicious. It's also fun to experience this Japan food as you get to make it and cook it yourself at the table. It goes down even better with a Sapporo beer.
The word okonomi means 'what you want' and yaki means 'grilled'.
The batter is made of flour, grated yam, water, eggs and shredded cabbage, and usually contains other ingredients such as green onions, meat (generally pork or bacon), prawns, octopus, squid, vegetables, kimchi, cheese and others.
Most restaurants are cook-it-yourself places. The waiter brings you a bowl of raw ingredients that you mix and cook at your table. The table will have a hot plate fitted in the centre.
Okonomiyaki in Sapporo
A great Sapporo restaurant to enjoy this delicious dish is at Fugetsu in Sapporo Station.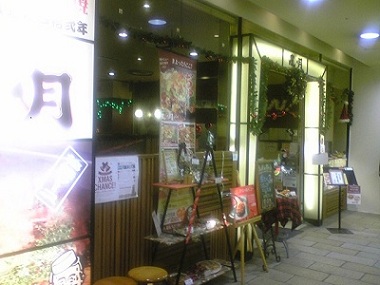 To find it, in Sapporo station first go into Paseo next to the JR ticket office opposite the JR Staion West gates.
Walk straight ahead. You will pass an escalator on your right.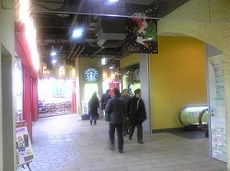 Continue walking straight towards the end of the walkway where it narrows. It will be on your left.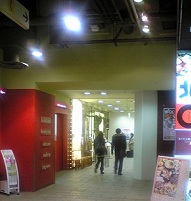 This place gets very busy during the weekends so you may see a long line of people sitting outside. Put your name prepare yourself for an experience you will not forget.
How to Make It
Here is a simple guide to making this tasty, fun Japan food.
1: The batter and ingredients that you ordered are brought to you in a bowl.
2: Mix everything thoroughly. Put some oil onto the hot plate and pour the mixture onto it.
3: Using the metal spatulas, shape the mixture evenly into a circle.
4: Make sure it is cooked all the way through because then you have to FLIP it to cook the other side.
5: When both sides are cooked enough first add a thin layer of okonomiyaki sauce with a brush.
6: Then add the mayonnaise anyway you like (I usually draw a face on mine) followed by the fish flakes and finally the dried sea weed.
7: Use the spatula to cut up the pancake and eat it fresh off the grill.
If you have trouble cooking this yourself, the waiters are usually very happy to help. They help me all the time!
Variations
The dish is said to have originated from Osaka, which is the largest city in Kansai so you will be able to find variations of this Japanese 'pancake' if you visit other places around Japan.
When fried noodles are added it becomes 'Modanyaki'. 'Negiyaki is one that is much thinner and contains a lot of spring onions.
In Hiroshima there is the 'Hiroshima-yaki' and this contains about three times the amount of cabbage as the regular kind, with fried noodles and a fried egg as toppings(optional, of course).
In Okinawa, it is called 'Hirayachi' which is thinner than usual but mostly people make this at home, not in restaurants.
In Tokyo, Tsukishima town 'Monjayaki' is eaten by the locals. This kind is a little more runnier and liquidy than your regular style. The main street in this town is called Monja Street.
from Okonomiyaki to Japan Food
from Okonomiyaki to Sapporo Homepage