Okinawa restaurant Mensore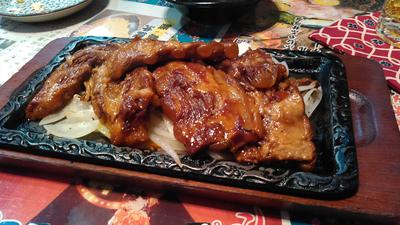 Pork ribs and cartilage
Mensore or if you want the full name which is Okinawa Kitchen Mensore (沖縄厨房めんそーれ) is, in my humble opinion, the best restaurant in Sapporo Japan for Okinawan food. I have been to a few other places in the downtown area, but this little gem in Toyohira ward can't be beaten in terms of the quality of the food. In fact, some people say (my friends) that it's even better than the real thing, meaning that food in Okinawa is second rate to this place. I'm sure there are some awesome restaurants that serve excellent food in Okinawa, but regular restaurants are just alright (Fuutsu!).


One of the best dishes at Mensore is the Soki Soba, which is flat style noodles in soup topped with a chunk of thoroughly simmered pork ribs and cartilage. Cartilage is a bit of an acquired taste (I love it), but this is amazing. Even if you are not partial to cartilage, you will love this. Combined with the soba and the soup, it is perfect. There is also the option of ordering a large portion of the rib and cartilage on its own.
Another dish which you must eat is the classic Okinawan dish Goya Champuru. This is a combination of goya, spam, egg, and tofu all stir fried together. I don't like goya because it is a bit too bitter for my liking, but the way they cook it here is so good that the bitterness of the goya is minimal and complements the dish. I have had this dish at other Okinawan restaurants but the bitterness of the goya was too strong, so I wasn't happy about that. Mensore cook it to perfection.
There are of course plenty of other great Okinawan dishes on the menu but the ones above are a must try.
Check out this page for the menu:
https://tabelog.com/hokkaido/A0101/A010303/1005161/dtlmenu/
The nearest station is Misono Subway station on the Toho Line (blue) and takes about 10 minutes on foot.
Address: Toyohira ward, Misono 11 jo, 5 chome 1-17
Telephone: 011-833-8885
Opening times: Lunch 11:30 - 14:00, dinner 17:00 - 24:00, Tuesdays closed.
Here is link to a
map