One Niseko Resort Towers
One Niseko Resort Towers is a beautiful place to stay for a ski trip.  It's especially suited to couples hoping for a romantic getaway or families. It's based in Niseko Moiwa, away from the bustling crowds and rowdiness of Grand Hirafu(the largest of the Niseko ski resorts).  If partying and late night drinking is what you are looking for then this hotel is not the place to stay. 
There is a small mini bar in the lobby lounge area but that closes at 8pm.  There is also a cigar bar on the top floor where you can enjoy a range of cigars and cocktails, but that closes at 11pm.  The free shuttle bus service  is excellent and leaves regularly to all the resort areas in Niseko.  Grand Hirafu is about 30 minutes away.  You can also be picked up but the last bus back to the hotel from Grand Hirafu is 11pm.
All the rooms this Niseko resort are suite rooms with kitchen appliances and utensils included so bring lots of food to cook.  If your culinary skills are not up to par head up to the restaurant on the top floor or order room service.  The rooms are spacious and very comfortable for two people but could easily sleep four.  There is also a tatami area accompanied with futons for those wanting to experience the traditional Japanese way of sleeping.  The sofa also pulls out into a sofa bed so actually there are enough beds to sleep six people but that would be a tight squeeze.
Guests also receive a complimentary buffet breakfast every morning.  It's really good.  Lots of dishes to choose from: Japanese or continental.
One Niseko Resort Towers is situated in very quiet, beautiful surroundings.  There is literally nothing around or nearbyl.  Nothing.  Stock up on your groceries at the supermarket in Kutchan town before you come so you can crack into that first beer as soon as you arrive and get settled in.  There's nothing worse than having to drive out for more supplies once the booze has started flowing.
The closest ski area is Niseko Moiwa and personally my favourite out of all the Niseko ski resorts.  It's small but so are the crowds so you can find fresh lines all day.  There are some nice back country areas too and the snow is always in abundance.  Niseko Moiwa is ski in but NOT ski out.  There are regular free shuttle buses and it takes five minutes to the hill, and about three minutes to ski back to the front of the hotel.  Ski lockers are also provided free of charge conveniently located right next to the entrance.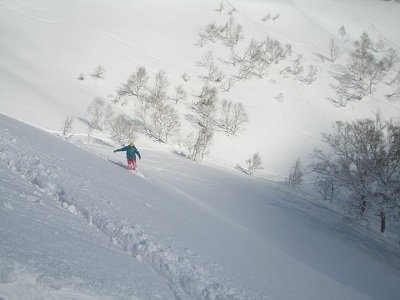 After a day shredding the pow have a soak in the onsen.  There is a rotenburo (outdoor bath) but it's quite small.  The onsen never got overcrowded though and I stayed over New Years.  Just remember you get charged for the onsen, which is added to your bill when you check out.  They never mentioned this anywhere, the cheeky bastards.  The service was ok and everyone speaks English, but there really isn't much communication required between the staff as any information is readily available in the lobby.  We did order a carton of milk from the front desk (there's a small kiosk) but it never came and there was no apology.  Fortunately we didn't need the milk after all, so there was no need to kick up a fuss.
I really enjoyed staying here and highly recommend it.  It was very relaxing as everything was so convenient and accessible.   Book online here for cheaper rates.
Getting There
Check out the website for access to the hotel. 
from One Niseko Resort Towers to Best Hotels