Moon and Sun Brewing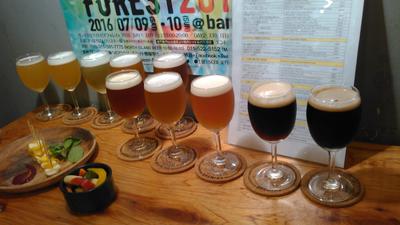 Taster beers
Craft Beer of all kinds at this awesome joint. This bar/restaurant is always my first choice when I wanna drink good, craft beer, but most of the time it's packed so gotta make that reso. A couple of times I've been lucky with a walk-in but that was because there was only two of us and the staff brought out this tiny, crappy fold away table and put it right next to the front entrance so we froze our butts off every time a punter came in! Not pleasant, but it was still nice of them to try to accommodate us.


Back to the beer! So, they have a great selection (about 10 different beers at any one time from across Japan that change regularly) ranging in different flavours and strengths. The strongest one I saw on the menu was about 11%. I don't know about you but usually for a beer that strong, I can really taste the alcohol content, but I couldn't with this. It tasted like a 6% beer. Good if you wanna get sloshed fast, not so if you are a light weight. All beers cost 550 Yens for a half pint and 900 Yens for a pint. They also have this really cool taster option where you can order 5 different types of beer (a little less than half a pint each) for 1,500 Yens. Another option is the nomihodai (all you can drink for 3,000 Yens for 90 minutes).
And if you're hungry there is also food, but it's not much to write home about and a bit pricey. They have some pretty good niblets and cheeses though that go well with the beers or wines (if you are so inclined). Probably the best option is to order a nomihodai and food party plan (6 courses) for 4,500 Yen for 90 minutes.
Moon and Sun Brewing is really easy to get to. It's located right next to the Fish Market at the end of Tanukikoji arcade block 1, so about a 5-10 minute walk from either Odori or Susukino subway station.
Address: 1-3 Minami 3 Azabu, Chuo-ku, Sapporo, Hokkaido 060-0053, Japan Alpha Creation River Park Building, ground floor
Telephone: 050-3476-4456
Opening times: 17:30-24:00 (closed on Wednesdays)