Mexican food at Emi's Kitchen
by Ben
(Sapporo, Japan)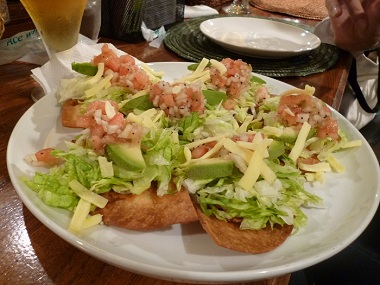 Tacos
You wanna Mehicaan foooood? Emi's Kitchen is one of the few restaurants in Sapporo Japan that can cater for your Mexican tastes and is one of my favourite. Well, it's not "real" Mexican food as you Americans out there can attest to. The food is more of an Asian Mexican fusion home cooking kind. The food is really good and all cooked from fresh by Emi herself.


It's a really small cosy restaurant with only five or six seats along a counter so you can watch Emi cook all your food right in front of you. She's a great cook and I actually found out she taught herself and came up with some of her own original recipes. She sometimes gives cooking classes in the afternoons.
Emi, who is Japanese, is such a lovely woman too. She lived in New York a long time ago, so she speaks excellent English.
The restaurant has such a relaxed feel, more like your local bar kind of atmosphere, usually with some salsa or Mexican music in the background. She regularly plays tunes from Café Del Mar or The Buena Vista Social Club. Because the place is so small, it's more suitable for couples or going solo.
The food is always really good every time I go there and I always find it difficult what to choose as all the pictures on the menu make everything look so yummy.
I really like the tacos dish there. They are not your usual Mexican tacos of tortilla wrapped with some kind of filling. Emi's tacos are more like nachos with toppings of vegetables and a serving of salsa and Caesar dressing. A great dish to share. I also really like the Chimichanga which is a deep fried burrito with your choice of chicken or vegetable fillings. Actually, Emi's Kitchen is a great place for vegetarians as there are lots of dishes without meat and she doesn't use meat stocks when cooking.
The average price for two people without drinks is about 1,500 yen.
Address:
North 24, West 3, kita ku, Sapporo Japan.
It's really easy to find. From Kitanijuyojo (North 24) subway station, take exit 1, turn right and walk for about 40 seconds and it will be on your right, along the main road.
Opening times: usually from 17:00 – 22:00 every day but sometimes she closes early if there are no customers. She will sometimes close for days or weeks on end if she goes on holiday or something…….. the perks of being a one woman restaurant.