Masazushi Zen Sushi

(Sapporo, Japan)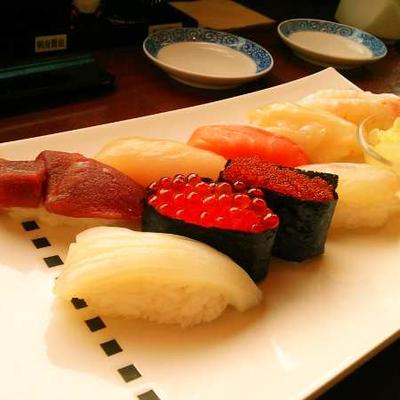 sushi combo set
The sushi at Masazushi Zen is delicious and fresh and all what you would expect from Japan. Otaru has loads of sushi restaurants and pretty much whatever restaurant you visit, the sushi will be top grade.


Masazushi Zen is a popular place in Otaru and it was recommended to me by a friend who lives there (not at Masazushi!). She's a self proclaimed sushi expert as she eats it a lot and has regular sushi parties at her house. I threw out the idea one time that she should be a sushi chef, but she said that her hands were too warm, so she couldn't. Supposedly that's the reason most sushi chefs are men. My hands are always freezing cold all the time. I would make an excellent sushi chef.
Masazushi Zen is little bit posh (more tea vicar!) and more like a "real" sushi restaurant as opposed to kaiten (conveyor belt) style so the prices are more expensive. One piece starts at about 180 yen and goes up to 1,260 yen (for one piece!). If you're not frigging loaded, I would recommend the set meal combos. They start from 1,580 yen and each contain nine pieces of sushi.
I went for the cheapest option because I don't really like uni (sea urchin) and that is the only combo that doesn't include it, and uni is really expensive. I've had
it a few times but only in Shakotan during the uni festival where I've eaten it straight from the sea, so it's as fresh as it could possibly be. I don't think I could eat uni at any other place after that, unless it's direct from the ocean. One combo is enough for one person.
We also shared a large hokke, which is arabesque greenling fish (that's what the smart phone told me) or mackerel. I love hokke, especially on the barbecue. Because the weather in Sapporo has been so crappy this year, I haven't had the chance to barbecue yet. Golden week was shocking. No cherry blossoms and rained almost every day. Definitely the worst spring (what spring!) I have experienced since I have been in Sapporo (since 2007).
Masazushi Zen was pretty busy when we went (a good sign) and we had to wait about 20 minutes. We had a delightful window seat overlooking the main Otaru canal. There are also counter seats where people can watch the chefs strutting their stuff. Some of them speak a little English. And they have an English menu! Great sushi, great atmosphere, great times!
From Otaru JR station it's a short 10 minute walk. From Sapporo JR station it's a 30 minute train ride and costs 620 yen one way.
Check out their website for prices and details: http://www.masazushi.co.jp/menu_1.html
View Larger Map