Kopitiam Singapore Restaurant
by Ben
(Sapporo, Japan)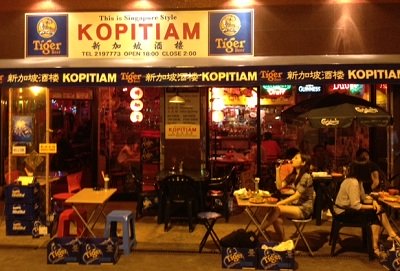 Kopitiam is a Singapore style restaurant located down Tanukikoji arcade between Susukino and Odori. This place has excellent food. Nice and spicy, but you can have it mild if you can't handle it. Pussy!


This restaurant is a regular favourite among the locals. One of my friends introduced me to it back in 2008. Another friend recently mentioned to me that she went there and it was her favourite restaurant in Sapporo Japan. This prompted me to re-visit. I took my friend there and when we were approaching the restaurant she said that she had been there before and it was one of her favourite restaurants too, so that's now three of my friends who gave Kopitiam two, big thumbs up. Always trust the locals.
We had this delicious prawn (shrimp for you Americans) in a sweet chilli sauce dish. The prawns were big, de-shelled, and we received a generous portion……yum, yum and probably the best dish I've had there. There's a lot of food on the menu, all written in Japanese with really bad photos of the dishes. I kind a liked the tatty, ghetto looking menu. You don't usually get that in restaurants in Sapporo Japan, but it just adds to the rustic character of Kopitiam.
I really like the character and feel of the restaurant. The tables and chairs are very simple, and cheap, like your plastic garden chairs, all different with varied colours. If you have ever been to Singapore there are lots of street restaurants (or hawker stalls) where people sit outside on plain old chairs and tables, basically anything that does the job. The most important thing is the food at these places. And the food is awesome! It seems like the crappier the establishment looks, the better the food! There are tonnes of restaurants like this all over Asia and I think Kopitiam has captured that same atmosphere down to a T, which makes this place so unique. I really enjoy sitting outside the front of the restaurant in the summer, people watching.
So after ordering a couple of Tiger beers we asked the friendly waitress for a recommendation. The number one most popular dish she said was a chicken dish. It was chicken breast still on the bone, had the skin on, and then steamed. It's then served sliced up in chunks accompanied with three dips of soya sauce, crushed ginger, and chilli sauce.
Actually my mum cooks this dish a lot when I'm home or for special occasions as it's really healthy (unless you eat the fatty skin, which I do!). Kopitiam's version tasted just as good as my mum's which made me feel a bit nostalgic…… and homesick.
Make sure to get there early. It was completely full the whole time we were there and that was a Wednesday night, but we were lucky to have got there just before the evening dinner rush kicked off. You can also make a reservation.
It's located at Tanukikoji 7, a short walk from Odori or Susukino subway station. This block is pretty quiet with not much going on compared to the rest of Tanukikoji. A bar or two here and there and the rest of the shops close in the evenings, so it feels like you are in a rundown area where everything has shut down apart from this one restaurant, but don't be deterred. Kopitiam is the bomb.
An average meal with a couple of beers will set you back about 3,000 yen and leave you completely satisfied.
Address: Chuo ward, South 3 West 7, Tanukikoji arcade, Sapporo Japan.
Opening time: 18:00 – 02:00 (closed Tuesdays)
Telephone: 011-219-7773
View Larger Map