Japanese Parks – Moerenuma Park
Moerenuma Park is one of those modern stylish Japanese parks, designed by the late sculptor Isamu Noguchi. A very pleasant way to enjoy a day trip if you want to get away from the busy city of Sapporo Japan. And only a short drive away. Great in the summer and opened all year round.
The park seems like one large sculpture with all its different sections dotted around the grounds. You'll see lots of large pieces of art whilst you walk around. There is also large grass areas and places to relax or have a picnic. I love picnics so the first thing I do when I arrive at the park is to find a nice spot in the shade where I can chill and munch on some zangi (fried chicken) and people watching. This park is one my favourite parks in Sapporo and would probably my number one pick if it wasn't so difficult to get to.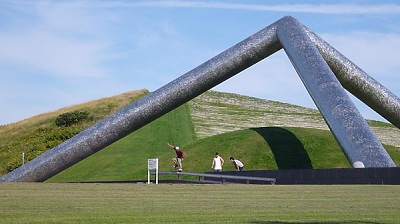 The last time I went there I was fortunate enough to see some skateboarders. Usually back at home in the UK, these boys would be considered a bunch of hooligans, causing damage to public property, but strangely the jumping over and grinding down rails and steps seemed to add to the modern, urban feel of the park. And they were pretty damn good too. In fact, I have yet to see a skateboarder in Sapporo city that sucked. Well, there was one girl I saw in Odori Park who didn't do much but skate around in a circle trying to look cool. She was one of those " all the gear, but no idea" kind of people……She's trying though, so I'll give her that.
Moerenuma Park was fully completed in March 2005 and designed by the Japanese Sculptor Isamu Noguchi who sadly passed away suddenly on December 30 1988 in New York city just after finishing the master plan of the park so he never got to see his creation realized. There are also other Japanese parks in Sapporo Japan designed by artists.
Park Areas
Forest of Cherry Trees
This is the playground area where is a great place to take the kids if they are getting bored of walking around looking at sculptors they probably won't appreciate as much as us art types, ay? It's not your usual playground in a park with seesaws and swings, but more of a climbing jungle where each play equipment can be considered a sculptor designed by Isamu Noguchi.
Moere Beach
Not exactly a beach, but rather a large pond that is very pleasant for a paddle and to cool off, especially if it's a hot day. There "beach" does not have any sand. It is paved with coral and surrounded by large umbrellas to shade yourself from the sun. There are some pretty decent japan beaches around Sapporo if that's what you are looking for. A lot of my Japanese friends really don't like to be out in the sun because it's considered more beautiful to have white skin. Make sure to buy an ice cream!
Play Mountain
This pyramid shaped hill is about 30 metres high and is located bang smack in the middle of the park and from the summit you can enjoy the magnificent landscape in the comfortable breeze. Add a beer to that and it's the perfect place to watch the sun set.
Tetra Mound
This is the first major sculptor that I encountered when I entered the park. It's a triangular pyramid made of stainless steel tubes and reaches about 13 metres in height. Just in front of this piece is a nice grass large area where you can picnic or throw a Frisbee around. This was also the sculptor where those skateboarders were honing their skills.
Aqua Plaza
There is a small fountain which flows into a long canal shallow canal which you can walk around and the kids can play in. Very refreshing for the feet and a rare feature for Japanese parks.
Glass Pyramid "Hidamari"
A large glass house sculpture is the main facility of the park where you will find rest areas, a few shops and restaurants and also a gallery introducing the Japanese sculptor Isamu Noguchi and his works. Outside just in front of the pyramid there is a large area where sprays of water is released from lots of tiny spouts forming a surreal misty environment where people can walk through. A feature I have never seen in any other Japanese parks. The children love it. I thought it was great and I spent a lot of time stepping on the spouts so the jet sprays would cool of my feet and clothes. That day was so hot too so it was a very nice surprise.
Mt Moere
Another pyramid shaped hill that has three flights of stairs leading to the summit. Moerenuma park is a great place to get some exercise because of the large hills and steps. This hill measures 62 metres high and from the top you can see a panoramic view of Sapporo city. This hill is also very popular in the winter when people come here for sledding or skiing ……you can have a lot of fun with a plastic sheet! This is one of my favourite Japanese parks.
Getting to one of the best Japanese Parks
Compared to other Japanese parks in Sapporo, Moerenuma is a bit more difficult to get to. Depending on where you are coming from;
1. Take the Toho (blue) line to Kanjo dori Higashi. Then take the Higashi 69 or Higashi 79 bus to Moere koen higashiguchi (east entrance). From there it's about a 10 minute walk to the park which you will be able to see from the bus stop. The bus ride is about 25 minutes and costs 200 yen one-way.
2. Take the Namboku (green) line to Kita 34 jo. Then take the Higashi 76 bus to Moere koen nishiguchi (west entrance). From the bus stop it's about a 15 minute walk. The bus ride is about 25 minutes and costs 200 yen one way.
Opening times: open all year round, 7:00 – 22:00 (park entrance closes at 21:00)
Address: Association, Moerenuma – Koen 1-1, Higashi-ku, Sapporo, 007-0011, Japan
Telephone: 011-790-1231
For more information check out the Moerenuma Park Website.