What Japanese Festivals?
The Hokkaido University Festival
Visit one of the most popular Japanese festivals for people from Sapporo. International food and yakisoba are aplenty at The Hokkaido University Festival. The Hokkaido University Festival is held every year for about four days in early June. The main campus road area is closed to cars and transforms into a carnival. The entire main Hokkaido University street (about 400m long) is lined with food stalls. On a regular day this beautiful road is lined with huge gingko trees and is a popular tourist attraction, especially in the autumn when the leaves change to reds and yellows.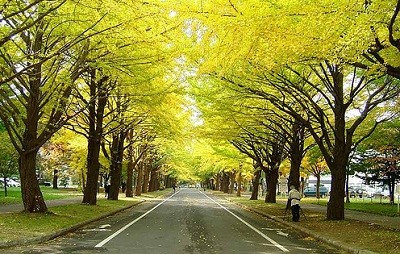 The Hokkudai Festival is unique from other Japanese festivals in that one half of the street is filled with stalls run by the students of the University selling cheap, festival, Japan food, such as yakisoba (fried noodles), yakitori (meat on a stick), Zangi (fried chicken) and other easy to make festival food, while the other half sells food from other parts of the world, the International Food section.
In the "Japanese" section, all the food is sold at very reasonable prices but the quality is not great, as it is made by students. All the way down this street, you will hear students shouting and heckling trying to entice potential customers to their booths. Most of the booths are packed and run by student clubs and departments, such as the Law Department, or the Tennis club.
In the other half of the main University street, the International Food section, you will find foods from all over the world. Most of these are run by professionals and restaurants and they pay a fee for their booths. Every year there are stalls serving Indian, Jamaican, Chinese, Spanish, Polish, Hungarian, Greek and many other kinds of food.
The prices here tend to be a bit more pricey compared to the Japanese section but you can find food here that is very difficult to find else where in Sapporo, or even Japan for that matter. I always go for a Turkish kebab or Indian Samosa, food that is not so common in Sapporo and that I miss from home.
The atmosphere is a bit more relaxed here and the people running the booths are not so pushy, I guess because they are professionals and know what they are doing.
Most Japanese festivals allow alcohol consumption, but unfortunately not this one. Until about three or four years ago, booze was allowed but there were a couple of incidents where some students drunk so much that they had to receive medical attention. One student even died.
There is also a music stage where student bands or musicians have a chance to perform. In 2011 there was a dance area just off the main street where a hip hop competition was held, which included dance groups and performers from schools and clubs all over Sapporo Japan. The level of the performers was mixed and the costumes and acts were very entertaining. The event started at 7pm and finished at 10pm. Every year there are different attractions and shows.
Entrance to the festival and all the shows and acts are free. 2011 marked the 53rd Anniversary of the Hokkaido University Festival and was from June 2nd to June 5th starting at 12pm and finishing at around 10pm. The last day is always on a Sunday and finishes early at around 2pm for everyone to clear up, so I recommend going on the Saturday before.
Getting There
Hokkaido University is about a seven minute walk from the North exit of Sapporo Station. Have fun at one of the most popular Japanese festivals for people from Sapporo. As the saying goes..."go where the locals go".