Jacksonville Burgers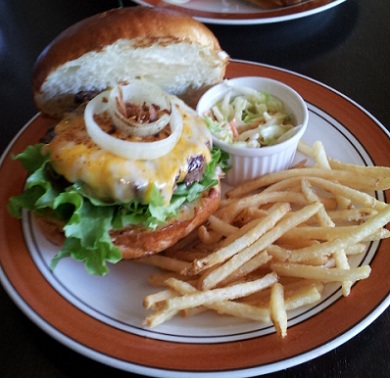 Jacksonville burgers are frigging awesome. This little burger bar in the Kitanijuyojo (North 24, also known by some as the "mini Susukino") area has been a favourite among burger lovers living in Sapporo Japan.


The owner is a real cool guy who hand makes all his burgers and you can watch him do it if you sit at the counter while he weaves his magic. He lived in Jacksonville (hence the name of his restaurant) in America for a while and speaks fluent English with an American accent…….it's so cool! My friend from Jacksonville said he actually has a Jacksonville accent.
The burgers are huge and presented so beautifully that you just have to sit and admire them for a minute or so before you devour them. On weekdays they have a special lunch time menu which includes a burger, a choice of salad or fries, a soft drink and a small cup of soup, all for the price of around 900 yen. The price will vary depending on what burger you order.
There is also a burger of the month which I order at least once a month. The vegetables that are used in the burgers are also really fresh and tasty. The atmosphere is welcoming and warm and families often come to eat here, so you can see some cute Japanese toddlers and pull funny faces at them…….if you are feeling like a kid.
A lot of locals told me about Jacksonville back in 2009 and they always raved about it, so it became quite famous among the ex-pat community. Every time I take a friend there for the first time, they are always impressed. I like burgers, not crazy about them, but I really crave them sometimes, especially after eating rice everyday (I love rice).
If you are in Kitanijuyojo then pop into Jacksonville for a tasty burger and chat to the friendly owner. You won't be disappointed.
Address: North 23, West 3 (located opposite a petrol station)
It's about a 3 minute walk from Kitanijuyojo subway station.
Telephone: 011-728-1001
Opening times:
Weekdays: Lunch 11:30 – 15:30 (last order 15:00)
Dinner 17:00 – 23:00 (last order 22:30)
Weekends and National holidays: 11:30 – 23:00 (last order 22:30)
Check out their website http://jvburger.com/ for more information.
View Larger Map