Izakaya - Sennen no utage

(Sapporo)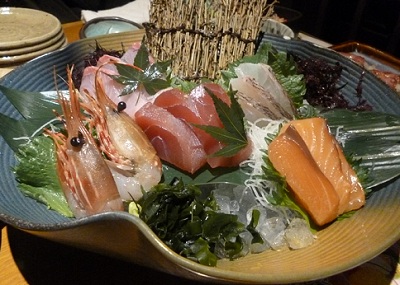 Sashimi
Sennen no utage is a traditional Japanese Izakaya (Japanese restaurant) and is found right in the centre of Susukino, Sapporo's entertainment district. We have very friendly and helpful staff.


We have a large menu and have all your usual izakaya food such as sashimi, nabemono, hokke, sushi, yakitori, salads and more. There is also a nomihodai plan (all you can drink) and costs 1,200 yen for two hours.
All the menus have pictures so you can order easily by just pointing at the pictures or we also have a touch screen menu so you can order at your own convenience without having to find a server. There are pictures of all the dishes on the touch screen menu too.
We are always busy, especially on weekends but the wait is never too long. There are nice small booths for couples or small groups and we also have larger rooms. The lighting and design will make you feel relaxed and comfortable.
Come and enjoy traditonal Japanese food!
Address: South 5, West 3, located on the 4th floor on the corner building.
Opening times:
Everyday 17:00 - 04:00