H's Cafe
by Ben
(Sapporo, Japan)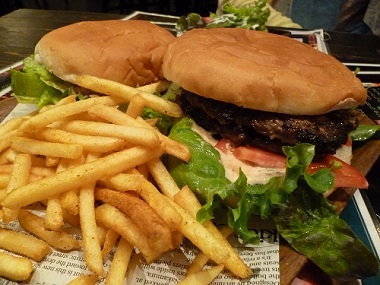 N.B.A. burger
H's Café in downtown Sapporo Japan is a wicked American style restaurant and bar that has really good, cooked to order, hamburgers. The burgers are frigging awesome and cheap too. I was really surprised at how cheap they were. The patties are big so you feel really satisfied and full. The fries are really good too. Apart from burgers and fries they have other western dishes on the menu such as pasta and salads and spare ribs but it's the hamburgers that make this place so popular. So if you have had enough of Japanese food and feel like a good decent freshly made hamburger, this is the place to go.


The inside of H's Café is pretty large and open planned with a relaxed environment with the tables at close proximity from each other, allowing you to socialise with other diners if that's what you like. At weekends it gets crazy busy so you might have to make a reservation if you have a large group. I've tried to go there a couple of times on the weekends but it's always been completely full.
The burgers all have very unique names that don't give you much idea of what is in them, except for the classic B.L.T, so you have to ask the waiters what's inside the burgers. I had an N.B.A (Native Big American) burger. This was delicious! The patty was massive and it came with lettuce, tomato and H's Cafés own special sauce, which the waiter told me was similar to Thousand Island dressing. I love Thousand Island dressing and N.B.A basketball so this was an easy choice for me. My friend went for a C.C.C (Chilli Cheese Chicken) which was also good but smaller. The N.B.A was definitely the better choice.
The burgers range in price from 300 yen to 600 yen. Next time I want to try the 600 yen burger, the SPR (Sapporo Jingisukan burger).
Address:
ホシビル1F
South 4, West 2, Chuo Ward, Sapporo, Hokkaido Prefecture 064-0804, Japan
Telephone: 011-513-1106
View Larger Map