Horumon Shokudou
by Ben
(Sapporo, Japan)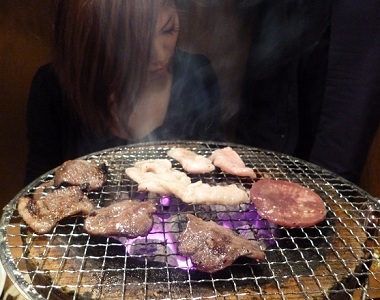 Yakiniku (barbecued meat)
Horumon Shokudou is a yakiniku (barbecued meat) restaurant located in Susukino, Sapporo Japan. Yakiniku is a very popular dish for meat lovers in Japan. Salary men love it combined with beer it goes down very well. Horumon Shokudou is only a five minute walk from Susukino Subway station. It is a nice little yakiniku restaurant that is well known for its horumon (pork guts). Doesn't sound that nice does it? Doesn't look that appetising either, but trust me it is gooood.


All the food is grilled by yourself at the table on a portable grill placed in the centre of the table. At yakiniku restaurants there are so many different cuts of meat, that in western countries are just cut off and thrown in the bin. In Japan they eat everything.
Typical parts of the cow and pig that you can order at yakiniku restaurants are karubi (short ribs), butabara (pork belly), harami (meat around the diaphragm), reba (liver), tan (beef tongue), horumon (guts) and much much more. The menu (Japanese only) at Horumon Shokudou is huge and has all the above mentioned plus much more. Try as much of them as you can. The cuts of meat are all raw and look pretty gross when brought to your table, but once grilled they look much more edible.
At Horumon Shokudou you can get a tabehodai (all you can eat) option which includes all the different cuts of meat, rice, a variety of salads and more for two hours. This will cost a little over 2,000 yen. They also have a nomihodai (all you can drink) option that includes Sapporo Classic beer for two hours, costing a little over 1,000 yen for two hours. A really good deal if you are hungry for meat and beer.
The interior traditional Japanese style with small booths on wooden benches and pretty cosy as you are quite close to other diners. Horumon Shokudou also has a "members" card system where you can get 500 yen or 1000 yen off your meal. However, this offer is only available for women though, so as you can expect this place is popular for ladies.
A nice feature at this restaurant is that they have ventilation vents above every table, similar to the ones on home ovens. And as a lot of people smoke in Japan, you won't have to worry about cigarette smoke disturbing your meal.
Opening times: 18:00 – 10:00 (last order 09:30)
Telephone: 011-561-2750
Address: South 5, West 4, Susukino Chuoku ground floor.
Go to the address below for a map and menu. Look for the ココ(here) in an orange bubble on the map.
http://www.hotpepper.jp/strJ000766996/map/#mapTop (Japanese only)