Hiri Hiri Soup Curry
by Ben
(Sapporo Japan)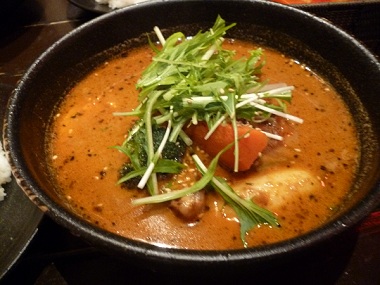 Chicken and veg soup curry
Hiri Hiri is a soup curry restaurant with four branches around Sapporo Japan. There are two branches that are very centrally located in the Odori and Sapporo Station areas. I have only been to Hiri Hiri 2, the Sapporo Station branch which is located under the JR train line so you will regularly hear trains roaring past above you whilst you are eating your meal. Don't worry, it's not as distracting as it sounds.


The interior décor is quite modern with lots of browns and yellows and feels very relaxed and welcoming. What attracted me to this restaurant was their poster of a screaming woman from the 50's or 60's. The branch in Odori has a huge poster on ground level and you honestly can't miss it. Also, Hiri Hiri is one of my friend's favourite soup curry restaurants in Sapporo Japan and she loves
soup curry
just as much as I do.
I always have to try my friend's favourite soup curry shops to see how different our tastes are. Sometimes, I am really surprised with their choices. For example, one of friends loves
Cancun
in Odori and personally, for me it was one of the worst places I've been to so far in Sapporo. Maybe the chef had an off day or something.
Well, back to Hiri Hiri.
It didn't blow my mind but the soup was very good. It was quite thin but not too watery. I prefer richer soups with a bit more weight to it, but there was lots of flavour. I ordered a number 5 spice which wasn't enough, but you can ask the kitchen for extra spice powder and add as much until your heart's content.
I was a bit disappointed with the vegetables. I didn't get much and they didn't seem as fresh as other establishments. The chicken was also a little overcooked and didn't fall off the bone so easily.
Overall, pretty good and as it so convenient if you are feeling like soup curry Hiri Hiri 2 is one of the best ones around Sapporo Station.
Address and opening times:
Hiri Hiri: South 1, West 17, 1-22
Lunch: 11:30 – 15:00
Dinner: 17:30 – 22:00 (last order)
Telephone: 011-611-5567
Hiri Hiri 2: South 6, West 6, ground floor.
Lunch: 11:30 – 15:00
Dinner: 17:00 – 21:00 (last order)
Telephone: 011-221-3607
Hiri Hiri V3: North 2, East 4, Sapporo Factory Basement 1 floor
11:00 – 22:00 (last order 21:00)
Telephone: 011-200-3010
Hiri Hiri main branch: South 1, West 2, South 1 K building Basement 1 floor
Lunch: 11-30 – 15:00
Dinner: 17:30 – 21:30 (last order)
Telephone: 011-241-7300
For maps check out http://hirihiri.jp/map.html