Hakatatetsunabe Izakaya
by Karl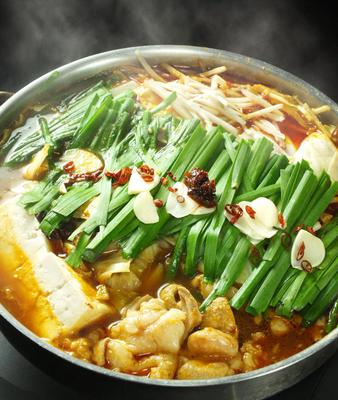 Motsunabe
Hakatatetsunabe Izakaya is famous for their mini gyoza (pan fried dumplings) and motsunabe (pork guts hot pot). Yeah, pork guts doesn't sound that appealing but the Japanese love it. It's soft and chewy and definitely unique for most foreigners. Most foreigners I know can't stand it. I love it, especially barbecued where it has a bit of a crunch to it. Also the dripping fat from the guts usually get the charcoals heated to produce a huge flame, so you can really grill that meat.


We had the spicy motsunabe, which I think was a little too spicy but delicious none the less. They scrimpted on the motsu though. I was disappointed with the gyoza, considering this is what they are supposed to be famous for. They were small, but there was hardly any mince filling in them, so I was mostly eating deep fried dough dipped in soya sauce. Rubbish! There are other choices of gyoza fillings such as prawns, so maybe give them a go if you visit this place.
The chicken wings were probably my favourite dish of the lot, but could of been bigger. They were cooked well though, succulent and juicy. The nomihodai (all you can drink) was cheap too, 1500 yen for 90 minutes and you get real beer (Sapporo) as opposed to the cheaper "fake" beer, which leaves a bitter aftertaste and a stinking hangover.
The bill came to a total of around 8000 yen for two people and that included a motsunabe, a dish of chicken wings, a dish of mini gyoza, a salad, and a nomihodai. A tad expensive for my liking and because the gyoza was crap, I don't think I would come back here.
A good bonus is that they have English speaking staff and an English menu. And the motsunabe wasn't bad but I've definitely had better. I'm always surprised that this dish is so expensive considering that meat guts are relatively cheap, especially in the super market. Better to make your own at home I reckon.
Address:
G DINING building 2F,South 3 West 3, Chuo-ku, Sapporo-shi, Hokkaido,060-0063
Tel: 011-218-1303 (+81-11-218-1303)
For a detailed map: https://gurunavi.com/en/h210002/mp/rst/
Opening times:
Monday - Thursday 17:00 - 2:00, the following day(L.O.1:00)
Friday - Sunday 17:00 - 3:00, the following day(L.O.2:00)
See https://gurunavi.com/en/h210002/rst/ for more details and booking online.