It ain't curry soup. It's Soup Curry at Voyage.
It looks like curry soup, but it's called soup curry. Voyage is probably my favourite soup curry restaurant in Sapporo Japan.
The theme of this establishment is an Indian/Buddhist/hippy feel and is very warm and friendly and always busy but the wait is never more than ten minutes.
The layout and interior design is charming and spacious with a large counter if you are eating by yourself (very common), sit in one of the cosy booths at the front of shop or a large table at the back if you are with a group of people. Accompanied with the Asian background music you really get that bohemian feel when dining here.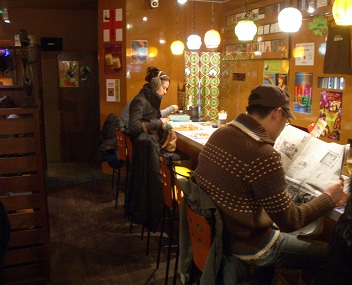 The menu is great and they have a different soup depending on what day you go, so you have the choice of the soup of the day or the regular soup. Voyage is particularly convenient in the winter when they provide straw baskets to place your coats, scarves, hats etc next to your table.
My favourite dish on the menu is the crispy chicken and vegetable (sakuto harb chicken) with the regular soup (mandara) and spice level 3 (on a scale of 5) for an extra 100 yen, which is well worth it. Price 1080yen. The soup is thin, rich with herbs and a little oily with a slight meaty flavour.....delicious!
The chicken is soft, tender and easily falls off the bone. The crispy skin mixed herbs make it an amazing combination. This is the only soup curry restaurant I have found where the skin on the chicken is crispy. Usually the chicken dish in other places in soggy and fatty. Accompanied by the fresh, colourful and delicious vegetables, it's no wonder that this restuarant has remainded so popular since opening in 1996.
Another great dish that I usually order is the fried prawns (Puri Puri Ebi). They serve you a generous helping of fried prawns and vegetables. Again, with the mandara soup and a spice level of 2 or 3. Price 1240 yen (most expensive dish in the haaaaaouse)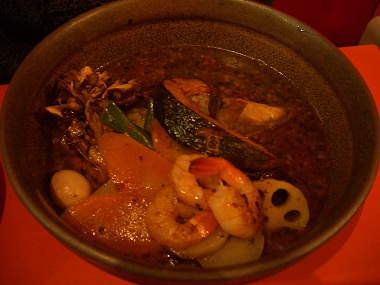 Voyage also has two other sister shops; XYSA (pronounce keesa) and Picante. These are also very good with Picante's dishes being very similar to Voyage's, but XYSA's dishes are completely different and definitely worth the trek out there. I only go there for their "Asian Dancing" dish; thick, yellow coconut curry. It's located at North 23, East 6 away from any subway stations or bus stops, so you need a bicycle or car. I go by bicycle. Go, go, go, go!
And remember it's not curry soup, it's soup curry!
Getting There
Voyage is located at North 22, West 5. Telephone number; 011-758-2500 Opening times: everyday 1130-2300 (last order 2245)
From Kitanijuyojo subway station on the Namboku line, Take exit 1 turn right and it's about a 5 minute walk.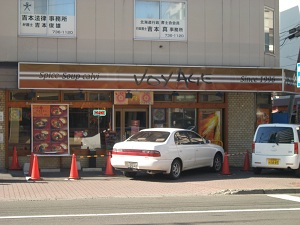 It is located on the ground floor and will be on the right side of the main road on the corner.
from Curry Soup to Japan Food

from Curry Soup to Sapporo Homepage