Cocoro Soup Curry
by ben
(Sapporo)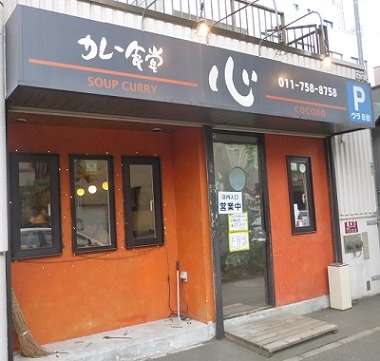 Cocoro front
Cocoro soup curry restaurant is supposedly the number 1 soup curry shop in Sapporo Japan, according to the Japanese online restaurant site Tabelog.com (October 2012). Number 1? In the whole of Sapporo? Really? ……You cannot be serious! (I'm a tennis fan, by the way). It wasn't bad, not great, and definitely NOT the best.


Maybe the Cocoro people paid big bucks to the site, or they have a family member secretly stashed away in a closet in the Soup Curry Rankings department of Tabelog.com. Who knows, but they must have done something because their soup curry alone could not have been enough to get top spot.
One of my friends came here before a couple of years back and was also unimpressed saying the soup curry was "watery". But as it was voted the best in town (I'm not going to trust Tabelog.com anymore) I thought it would be rude not to check it out. It was packed when we arrived on a Sunday lunch time and we had to wait for about 15 minutes. I was excited. I've never had to wait so long for soup curry before. This was gonna be special. Wrong!
There is only one kind of soup to order, a tomatoey, meaty soup that was thin and "watery" (I quite like the thin watery kind when I'm in the mood). I ordered the chicken leg and vegetable because there was no kakuni (braised pork belly) on the menu, which is my favourite. The chicken was nice and juicy with a generous helping of different kinds of vegetables and lots of soup, almost full to the brim.
What I liked about Cocoro was the spice. The spice level ranges from 1-100 and I went for an 8 and it was just right. I can't imagine what 100 would be like. (I did see this one dude sweating buckets with a towel around his head). From 0-10 it's free. From 11-30 it's 50 yen extra and from 31-100 it's 100 yen extra. My friend went for a spice level of 3 with her natto(fermented bean curd) and vegetable dish. She said it was too spicy and couldn't finish it. She's a real pussy though when it comes to spicy food, poor girl.
I tried her natto dish and I liked it. I don't normally eat natto. It stinks and it's sticky, but it's very good for you supposedly so I have always wanted to like it but I just can't handle the smell. I've tried eating it in various ways to weaken the smell but it's just too pungent, but having it in soup curry seems to be the best solution. Also, not many soup curry shops have a natto dish so my friend was very happy with that. It's her favourite…….crazy b*itch.
You can choose your rice portion from small to large at no extra charge. Naturally I went for large and it was more than enough. It also comes with a couple of cute pieces of seaweed paper for that extra bit of goodness.
The interior was pretty cool with a lively atmosphere and vibe. It felt like being in a wooden shack in the mountains. The kitchen is out in the open too so you can watch the chefs slave away over steaming pots of soup curry.
Cocoro is easily accessible from Kita12jo or Kita 18jo subway stations, only a few blocks walk.
Address: North 15, West 4, Kitaku, 〒001-0015 
Opening times: 11:30 – 22:00 (for national holidays please call to enquire)
Telephone: 011-758-8758
View Larger Map