Chinese Shabu Shabu
by Connor
(Sapporo, Japan)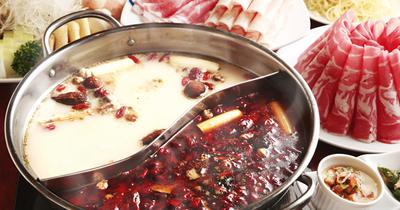 This shabu shabu restaurant is bit different your run of the mill Japanese shabu shabu establishment. Shabu shabu, for those who don't know, is where you dip and swish raw thin slices of meat into a large cauldron of flavoured soup. Or you can just throw the meat in and let it cook, but the problem with this strategy is could lose sight of it among the accompanied ingredients and risk it being overcooked. Usually a few swishes should be enough for you to eat.


It's called Shayo Fuei Yan. It's only written in Kanji too so might be difficult to find. So whats different about this place? The soup is the big difference and it's really good. I was brought here because of the healthyness of the soup. I haven't had anything quite like it before, but I was told it's a Chinese soup with lots of healthy Chinese herbs and other Asian spices. You can choose your spice level. I went for a two soup, medium spice and spicy soup combo set meal also included some vegetables, a small appetizer and some dessert. The appetizer and dessert are not worth writing about but the soup was really good and I felt really healthy after it. Must be those Chinese herbs!
Every shabu shabu restaurant I have been to seems to be very similar in terms of taste and food options so its hard to distinguish between them. Shayo Fuei Yan stands out from them with their soup and it's the only one of it's kind in Sapporo. Check it out if you wanna try a slight twist on shabu shabu.
A set meal for two people including a couple of drinks will set you back around 7,000 yens.
Address:
Sapporo, Chuo ku, South 4 West 3, LC building, 2F. From exit 3 of Susukino subway it's about a minute walk.
Tel: 011-522-1115
Website: http://www.hinabe.net/location/sapporo.html