The Best Soup Curry Shop in Sapporo?

Is Nishitondendori Soupcurry Honpo the best soup curry shop in town? Possibly. A bit of a mouthful of a name.  Nishitondendori is actually the name of the road where it's located.  Not very original but easily found, I guess.  I can never say the entire name, instead reverting to it's "shortened name" of Nishitonden.  It used to be called Campbell's soup curry way back when, circa 2009 possibly, but don't quote me on that, so maybe a lot more people living in Sapporo have heard of their former name as opposed to their current tongue twister of a name.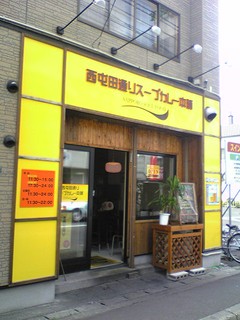 I was introduced to Nishitondendori Soupcurry Honpo (ok, from now I'll use Nishitonden) by a friend who reckons that it is the best soup curry restaurant in Sapporo.  Everyone has their favourites, of course but rarely can someone say that one single shop is THE best in the city.  There are loads of soup curry restaurants and I have been to a lot of them, but I still couldn't say which one was the best.  I was very curious as I had never heard of Nishitonden before my friend mentioned it. 
I took my soup curry partner in crime one busy Sunday lunch time and we were not disappointed.  I went for my usual kakuni (pork belly) with coconut soup. 
Kakuni and vegetable in coconut soup

There are four kinds of soup.  My partner in crime went for the vegetable and hanbagu (hamburger) dish.  You can have the choice of having the hamburger in the soup or on the rice.  They say "rice on" or "soup in".  The Japanese board of education really need to sort their English programme out. Ha!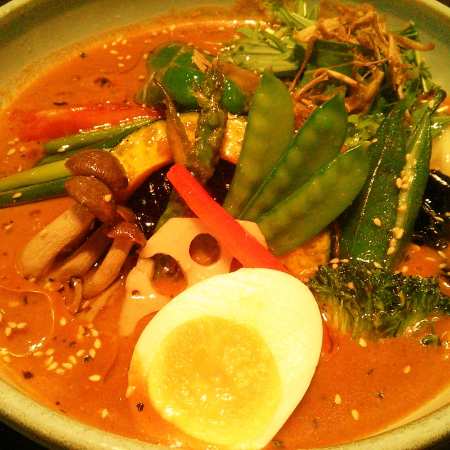 Vegetables in coconut soup

The hamburger is awesome!  It's a huge handmade softball sized lump of meat.  There is also the option of having cheese inside.  Definitely get it with cheese inside.  There are not many places that have a hamburger dish, but this place has the best one for sure.  I've been here many times after and when I'm hungry I will always go for the hamburger dish with vegetables.  It also looks bloody impressive.
Hambagu "rice on"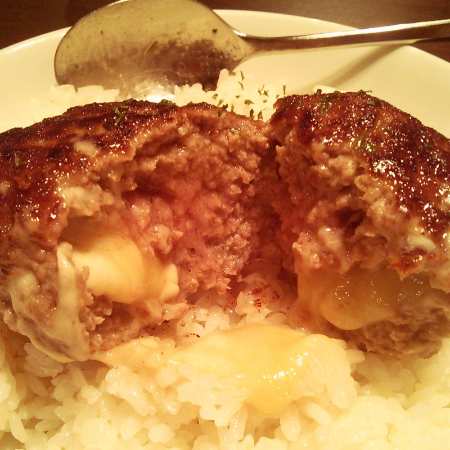 Homemade hamburger with cheese inside

My friend really liked the variety of the menu.  It caters for everyone's taste.  If you like the thin kind of soup (asari), check.  If you like the rich kind, check. If you like natto (fermented bean curd), check.  I can't eat natto even though I have tried many times (because it's so healthy and good for you, so everyone says), but in soup curry it actually tastes alright.  I still wouldn't order it though.  I want to enjoy my food, not worry about if I'm gonna puke all over my friend or not.
The spice is good too.  The levels range from 0 (for pussies) to 8 (ask for hotter if you like).  I always go for the first spice where you have to start paying.  It really is worth it for that extra kick.  At Nishitonden, you start paying at spice level 5.  And 5 is just right.  6 might be too much for me but given enough practice, promotion to level 6 could be possible within a couple months.  Gambarimasu!
Is Nishitondendori soupcurry honpo THE best soup curry restaurant in Sapporo?  It's my number one.

Address:  South 8, West 13
Opening times: 11:00 – 24:00
Telephone: 011-532-1202
View Larger Map
from Best Soup Curry to Japan Food