Basil Basil
by ben
(sapporo, japan)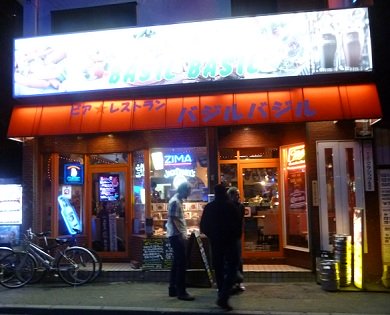 Basil Basil front
Basil Basil is a pretty cool bar if you are in the Nakajima Koen area, Sapporo. Or if you are staying at hotels in that area.


The interior is opened planned so it feels inviting and relaxed. You could go in large groups and take over a small corner of the bar. The staff are really freindly too and if it is your first time to go there, they give you your first beer for 300 yen. I don't know if this is the case for everyone, but we got offered this sweet deal. After that the cheapest beers are 500 yen a pop.
The food is pretty good too. We ordered chicken wings. They were awesome, really small but tasty and you can order a plate of 10 or 20. We just ordered plates of wings all night which went down very well with the beer. They even give you a "finger refresher bowl" with the wings. Don't mistake it for a drink, which my friend did and almost drank it before I stopped him. I should of let him drink it. That would of been hilarious!
They show sports too, so if you are by yourself in the area, it's not uncommon to pop in for a beer and watch some sports.
Basil Basil is easy to spot because it's the only bar down the street and it's opposite the Sapporo Hotel Excel Tokyu.
You could also walk there from Susukino, but you would have to walk through a street full of Neon lit Love hotels. It's kind of surreal as you come from the lively, and busy entertainment area to a place with nothing but bright purple signs and Love hotels. If it was any other country I would feel unsafe walking through the quiet streets, but this is Sapporo, Japan and there are a lot of quiet alleys around the city which are relatively safe to walk alone at night. Obviously you should still be on your guard and don't intentionally wander down dark alleys. You never know.
Walking from Nakajima Koen subway station is much quicker, about a 5 minute walk. From Susukino, it's about 10 minutes.
Opening times:
18:00 - 02:30
Address:
South 8, West 5,
5丁目-298−138, Sapporo, Chuo Ward, Hokkaido Prefecture 064-0808, Japan
Telephone:
011-561-3533
View Larger Map