Ajito Yakitori

(Sapporo, Japan)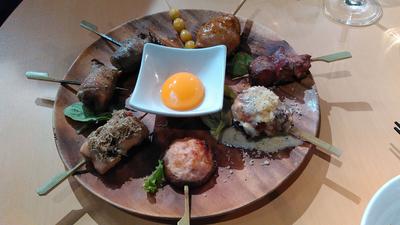 Fancy yakitori
This little restaurant is a really cool place specializing in yakitori (grilled meat on sticks). You don't get your usual yakitori but more of a "fancy" yakitori. You can straight away that the standard of the meat on the sticks is high. The sticks are sold individually whereas usually they come in pairs. The arrangement of the sticks is also much more pleasing to the eye and the size of them are larger too. I was pleasantly surprised at how well they were cooked. Yakitori to me is usually cheap and cheerful food that you can enjoy over a few beers, but at Ajito you get the cheerfulness but feel like you are going a bit more up market. The prices are also very reasonably priced. Also, they are supposedly famous for their curry (I know, weird right) and it's good by Japanese standards, so we thought we would try it. They were really great and gave us a half portion size which was perfect for two of us because we didn't want a full meal as we were really there for the yakitori.


Another thing which gets Ajito a lot of browny points is the nomihodai (all you can drink) menu as the wine list is very good. On most nomihodai menus there is usually only one rather bland "house" wine, but at this place you get the choice from a variety of wines from around the world. I tried three different kinds of red wine and all of them were good. Obviously they are not going to be amazing wines, but for a nomi, it's probably the best you are going to get, and for a part-time wine drinker like myself, it is more than enough.
The atmosphere is very warm and comfortable with about five tables and some counter seats by the kitchen and the main window. Be careful if you get the table right by the door (I did). It's a nice big table but the door doesn't close properly leaving a slight gap where a draft persisted to annoy the hell out of me, so that if the staff weren't on it, I had to constantly lean back and shut the door properly every time a punter came and went. I hope they'll fix it, can't be too hard to add some oil, right?
Address:
Minami 4 Jo Nishi 1, Chuo-ku, Sapporo, Hokkaido, , SB4-1 building 2F
064-0804
From Susukino subway station it's about a 5 minute walk
Telephone: 011-272-4210
Opening times:
Monday - Friday Lunch: 12:00 - 15:00(L.O.15:00)
Monday - Thursday Dinner: 17:00 - 24:00(L.O.23:30, Drink L.O. 23:30)
Friday & Saturday Dinner: 17:00 - 1:00 (L.O.24:30, Drink L.O. 24:30)
Closed every Sunday